The planet is warming at an alarming rate, and if no action is taken this will lead to even more extreme climate changes.  More and more people across the planet are acknowledging the reality that we're facing and taking action to reduce our negative impact on the planet. 
This blog is part of Our Green Stories, a Museums Partnership Reading campaign (Reading Museum and The Museum of English Rural Life), and explores sustainable development issues in Reading, with examples from our collections. 
Climate change 
Climate change is a huge issue relevant to our time. Greenhouse gas emissions (mainly carbon dioxide released from burning fossil fuels) are causing global temperature rises beyond 1.5°C of pre-industrial levels. Keeping levels below 2°C was the temperature target of the Paris Agreement. An increase above 1.5°C will have devastating effects on rising sea levels, food production and health.
In 2018 Professor Ed Hawkins, University of Reading climate scientist, created the 'Climate Stripes' graphic to show yearly global temperatures since 1850. The colour change from blue, cooler temperatures, to red, hotter temperatures, reveals the dramatic increase. This easy-to-understand graphic emphasises the recent increase in temperature, and consequently the need for fast and widespread action. 
Professor Ed Hawkins said "The deepening red stripes are an urgent warning of the adverse effects of rising temperatures. If we don't take rapid action by lowering emissions, future generations will be left to bear the brunt of extreme weather, such as more intense heatwaves, droughts, floods, and storms. This is not just about rising numbers on a chart, this is about the genuine impact on people's lives, businesses and communities. Every bit of warming avoided makes the consequences less severe."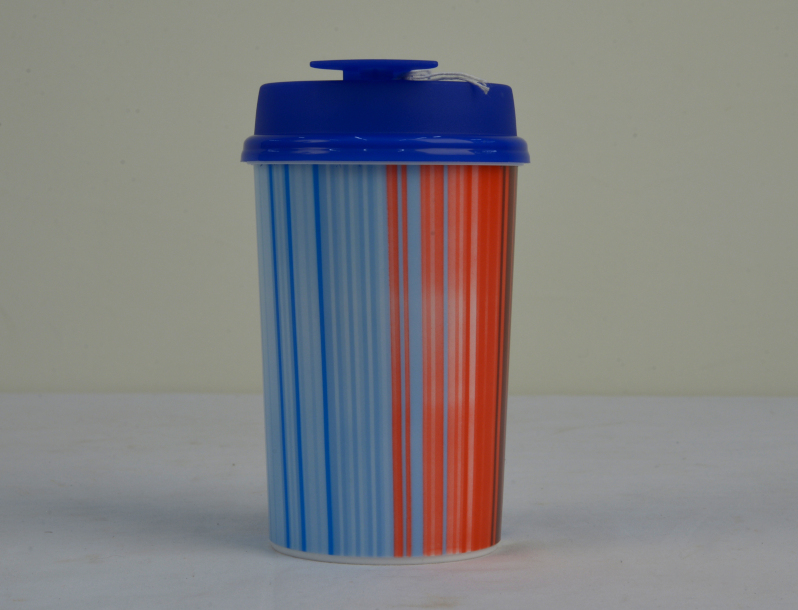 Re-usable lidded plastic cup featuring the 'climate stripes' graphic created by Professor Ed Hawkins at the University of Reading in 2018. (Object number REDMG : 2022.10.1)
Reduce 
The first element in the mantra 'reduce, reuse, recycle' prioritises reducing consumption. Food waste is one issue that contributes to climate change but can be reduced through action by consumers and retailers.  
Reading Museum has objects designed just for this purpose by re3, the waste management partnership between Reading, Bracknell Forest and Wokingham Borough Councils. Jar scrapers help reduce food waste by scraping out every morsel of food. Spaghetti measures help ensure that an exact amount of spaghetti is cooked to reduce wasted food and control portion size.  
We can also reduce our energy consumption by using energy efficient devices, for example in the Reading Museum galleries we have switched to energy efficient LED lighting, and we can also move to renewable sources of energy, like wind and solar, instead of using fossil fuels. 
Reuse 
Moving away from single use items and disposal containers means objects have a longer life span and less rubbish is produced. Reusable coffee cups help reduce waste and pollution. Using refill stations to reduce plastic packaging and refilling your own water bottle from water fountains helps to reduce plastic waste.
Recycle 
In 2003 Reading Borough Council rolled out kerbside recycling across the borough. Household waste is a major contributor to landfill. Local councils across the country were set targets for recycling household waste. In Reading plastic bottles and containers, paper, cardboard and tins are collected at the kerbside.  
The introduction of food waste recycling from 2019 has contributed to more of Reading borough's waste being recycled. The Council is now (2023) considering adding the collection and recycling of soft plastic (such as crisp packets, cling film, salad bags and film lids) to its kerbside collections. 
The Waste (Circular Economy) (Amendment) Regulations 2020 requires Waste Management Plans to include preparations to reuse or recycle at least 65% by weight of municipal waste by 2030.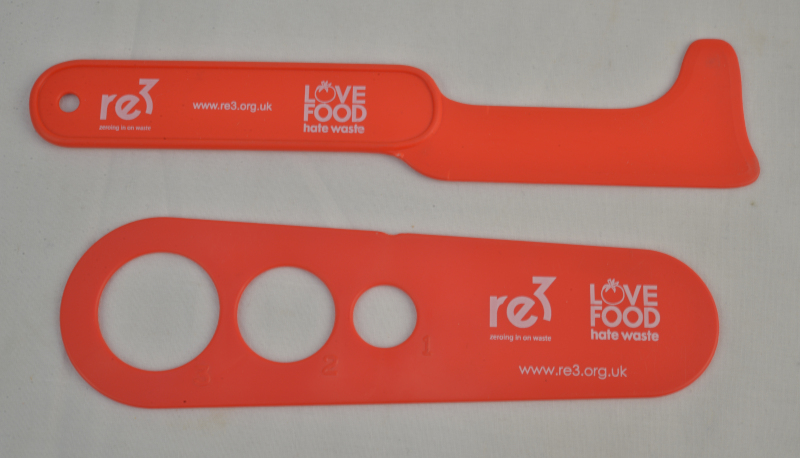 Re-usable jar scraper and spaghetti measure distributed by the Reading Recycling Centre, re3, intended to promote the reduction of food waste. (Object numbers REDMG : 2019.44.2 and REDMG : 2019.44.3)
Climate emergency
In 2019 Reading Borough Council declared a climate emergency. It stated, "this Council commits to playing as full a role as possible – leading by example as well as by exhortation – in achieving a carbon neutral Reading by 2030.". But the council cannot do this alone so works in partnership through the Reading Climate Change Partnership. 
Every country worldwide, the UK government, businesses and the public need to take part. People are taking dramatic action in protests, marches, petitions alongside modest but effective lifestyle changes. 
Dan Fernbank, University of Reading Energy & Sustainability Director, said: "We can't do everything, but we can all do something."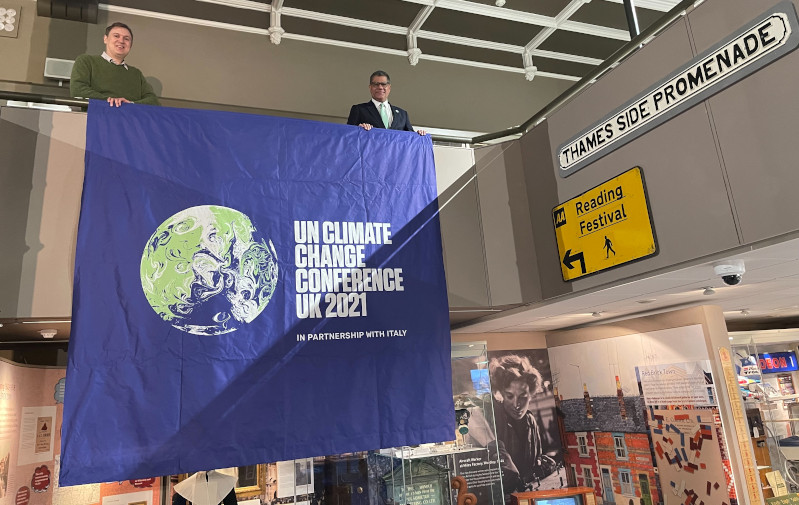 Banner from UN Climate Change Conference UK 2021 (COP26), held in Glasgow. The President of the Conference was Alok Sharma, MP for Reading West. (Object number REDMG : 2022.2.1)