Lifespring at The Pavilion has been recognised as one of the main hubs for community outreach in Reading's Oxford Road since it moved here in 2013. While at its core a Christian organisation, its work within the area transcends religious systems and addresses the social and community needs for the Oxford Road and the wider Reading area. Groups based at Lifespring cover addiction recovery, English classes (largely attended by refugees), social lunch clubs, and support groups like mother and toddler.
This online exhibition forms a digital version of Lifespring Stories, an exhibition that introduces some of the people who come to Lifespring at the Pavillion. It explores how they came to be here, and what the Oxford Road and the centre means to them.
Keep scrolling down to explore the pieces and hear from the people of Lifespring at the Pavilion in their own words.
Pleasant Things Do Happen
John, Lifespring Help Hub. John discusses the changes he has seen along Oxford Road, the joy of variety and finding the right level to help people. He shares the acceptance he has found in the church.
Here for Hot Chocolate
Shane, Lifespring Café. Shane speaks about his love for the Oxford Road and the community which surrounds it.
Eight Years Sober
Anonymous, Southampton, Recovery. A regular discusses his journey with sobriety and faith.
An Unassuming Regular
Ken, Salisbury, Lifespring Café. A daily regular talks about Reading and the place he has found within the church.
A Beautiful Place to Be
The Twins, Tilehurst, Over Sixties Lunch. Two regulars talk about the history of Oxford Road.
A Journey to Reading
Mariana, El Salvador, English Class. Mariana tells of her life in El Salvador, and the journey that brought her to Reading.
So Many Things Happened
Elsy, Honduras, English Class. Elsy discusses her journey to Reading from Honduras, and the reasons for it.
The Story of a Carpenter
Ernesto, El Salvador, English Class. Ernesto tells the story of his long journey to seek asylum in Reading, escaping the violent cartels in El Salvador.
One of the Friendly People
Ellie, Lifespring Café. Ellie talks about what brought her to Oxford Road and her experiences in the community.
Doing Something Worthwhile
Anonymous, Pakistan, Volunteer. We hear from a volunteer who tells their story and talks about the groups they have been involved in setting up and running.
Giving Back
Sarah, Leeds, Volunteer. Sarah discusses the joy of giving back to those who have supported her recovery from alcoholism.
Take the Thorns Back
Sean, Oxford, Volunteer. Sean talks about how he became involved with Lifespring, what his role is now and the people he meets.
Just Catching Up
Ann, Sue & Cath, Over Sixties Dinner. A group of friends talk about the history of the building and the Oxford Road, their love of Lifespring and the changes they have noticed in Reading.
An Ocean is Made Up of Drops
Jackie Jackson, Darlington, Community Development Manager. Jackie discusses her involvement in the church, the sessions which run, and the impact of lockdowns on the church and the community.
Firm Foundations
Stuart, Brentwood, Kitchen Volunteer. We hear from one of the cafe's cooks, Stuart, who has found purpose through his work.
"No, Penguin"
Nikki, English Teacher. Nikki discusses the class where she teachers English to speakers of other languages.
Love Who Walks Up the Steps
Chris, Whitley, Facilities Manager. Chris shares his story and his experiences of the building and the Oxford Road; from addiction, through recovery to fulfilment and purpose. All we can do is love the person in front of us.
Oxford Road in Cantonese
And we fled - a graphic illustration by the artist Frank Hammond showing how it feels to leave your home as a refugee and flee to another country.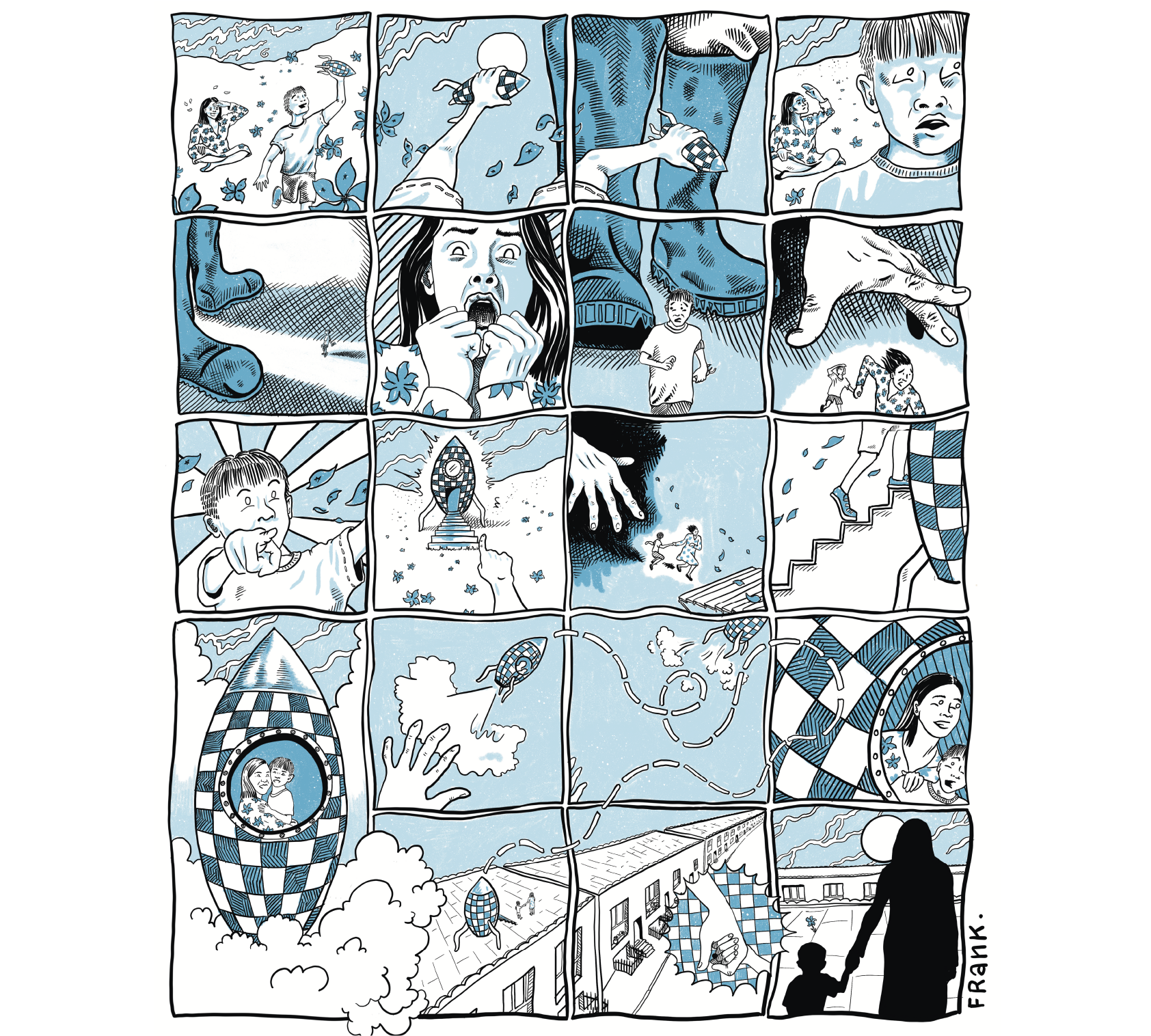 About the project
Lifespring Stories is part of Reading's High Streets Heritage Action Zone (HSHAZ) project, funded by Historic England in partnership with Reading Borough Council. It was commissioned by Reading Borough Council's HSHAZ and produced by Baker Street Productions Ltd, working with researchers from the Human Geography Department at the University of Reading. 
Thank you to all the people we spoke to – for your time, your trust and your friendship. We are humbled by your generosity.
The project was a joint production between:
Baker Street Productions - Caroline Bishop (Executive Producer), Charlie Jones (Graphic Designer and Audio Editor), Daisy Anstice (Audio Editor), Frank Hammond (Illustrator), Kat Holmes (Writer), Gab Gibek (Photographer), Oli Hewson (Creative Producer) and Steve Tidbury (Graphic Designer).
Researchers from the Human Geography Department of the University of Reading - Alice Mpofu-Coles and Robyn Woronka.
Translators - Abdullah Ali Al Abdulmunghi, Daniel Campos, Faisal Hussain Almodaife, Laura Little Soza and Parsa Kiani.
….and the people of Lifespring Church.