Roman Catholicism is an important aspect of Italian identity. Each town has its own patron saint and religious feast days which are commemorated by the town's community.
Practising Roman Catholicism in Reading allowed migrants to reinforce the community ties found at home and express and celebrate their local and national identity.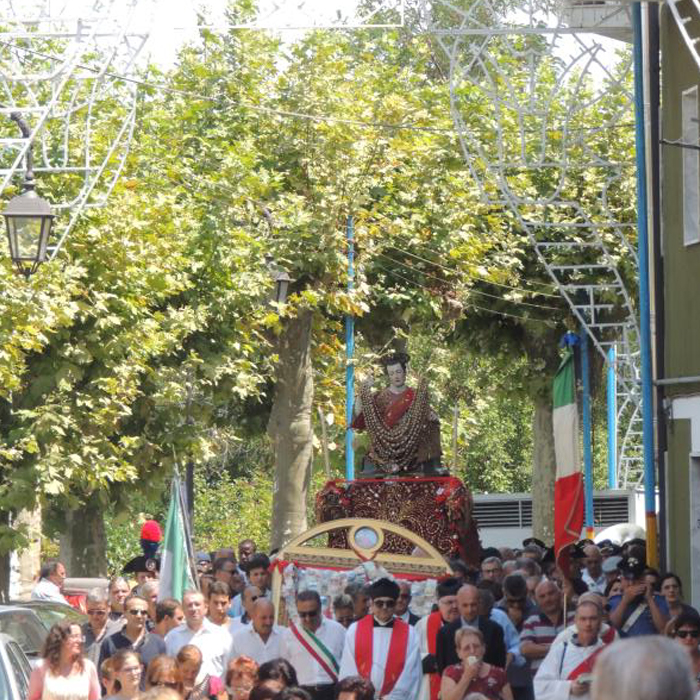 The patron saint of Torre Le Nocelle is San Ciriaco whose feast day is 8 August. Each year, the town gathers together to celebrate the day of their saint. In the morning, San Ciriaco is brought out of the Church and a procession occurs through the town.
St William of York Roman Catholic Church
Most first-generation Italian migrants in Reading went to St William of York Roman Catholic Church during the 1950s and 1960s. Baptisms, holy communions and weddings were all held here. These reinforced the importance of religion and simulated the village and regional ties found at home.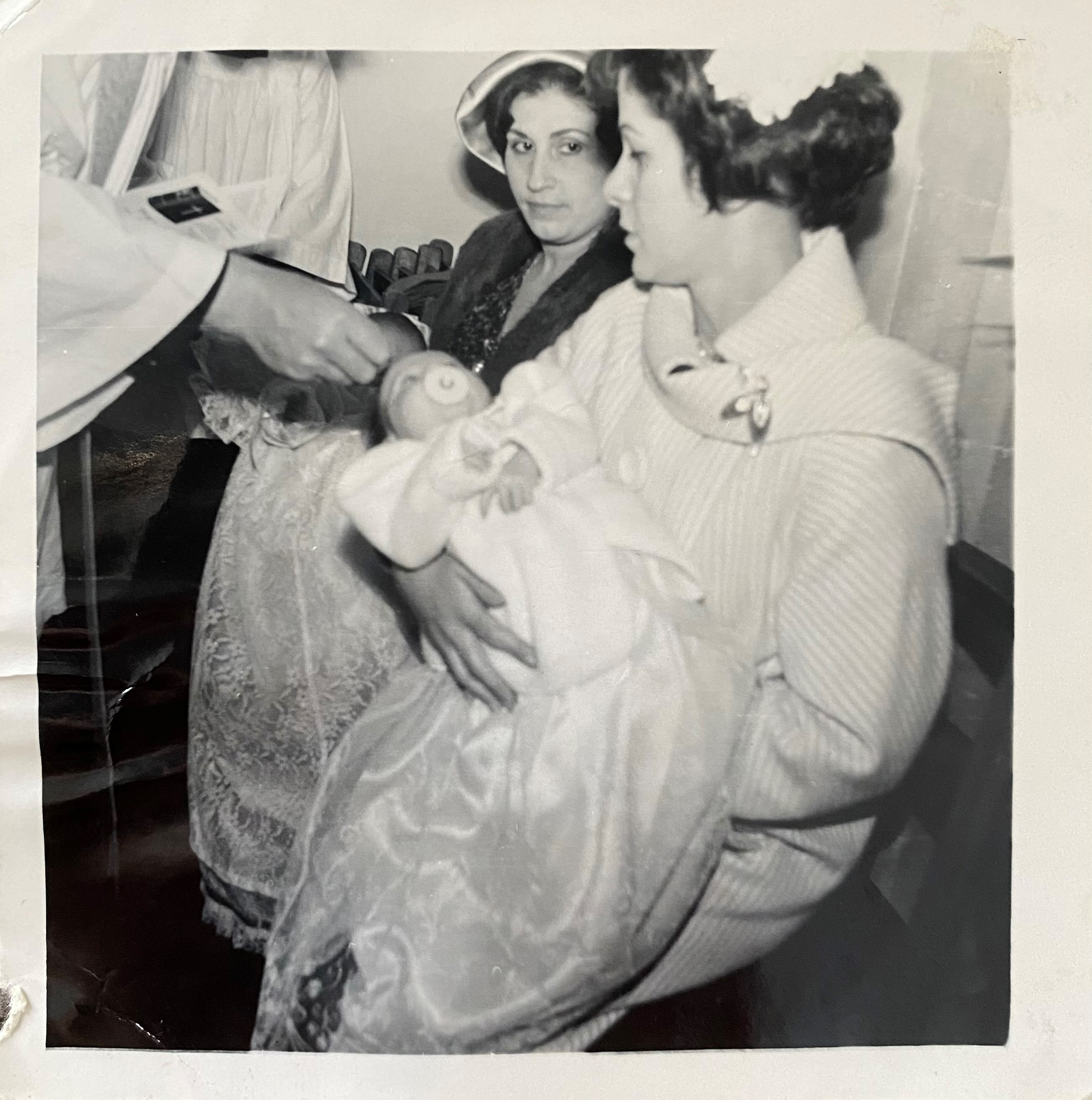 Teresa and Mena's baptism at St William of York in 1965.
As time passed, British-born Italians assumed different relationships with the Church. Mena enjoyed singing in the choir whereas Ciriaco remembers being 'dragged' to church by his parents.
Marriage and tradition
Many marriages within and outside of the Italian community happened at St William of York.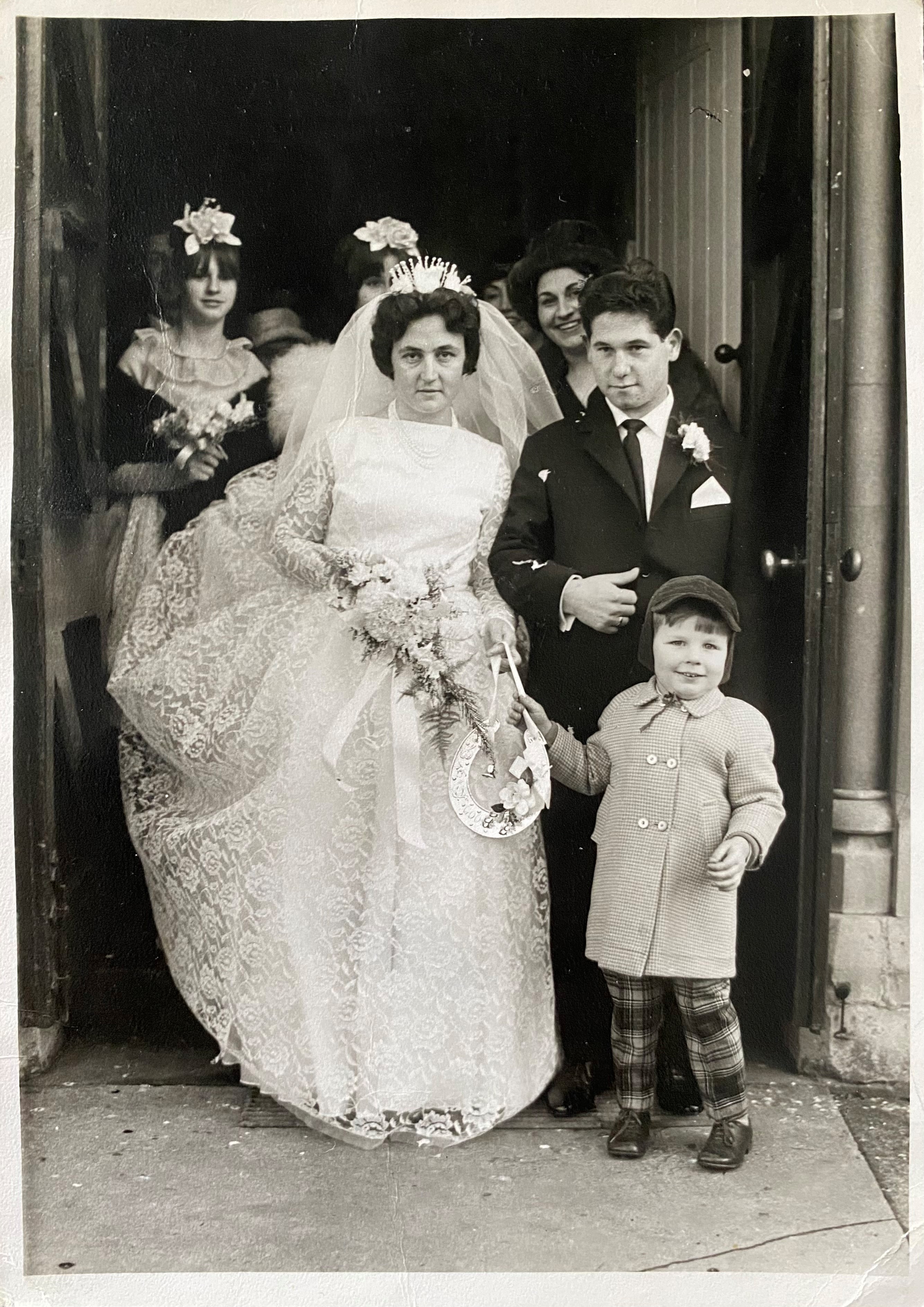 Sabatina and Sisto both left Italy in the 1960s in search for work and a better life. They arrived in Reading separately but met at Reading train station. They married at St William of York on 13 December 1964.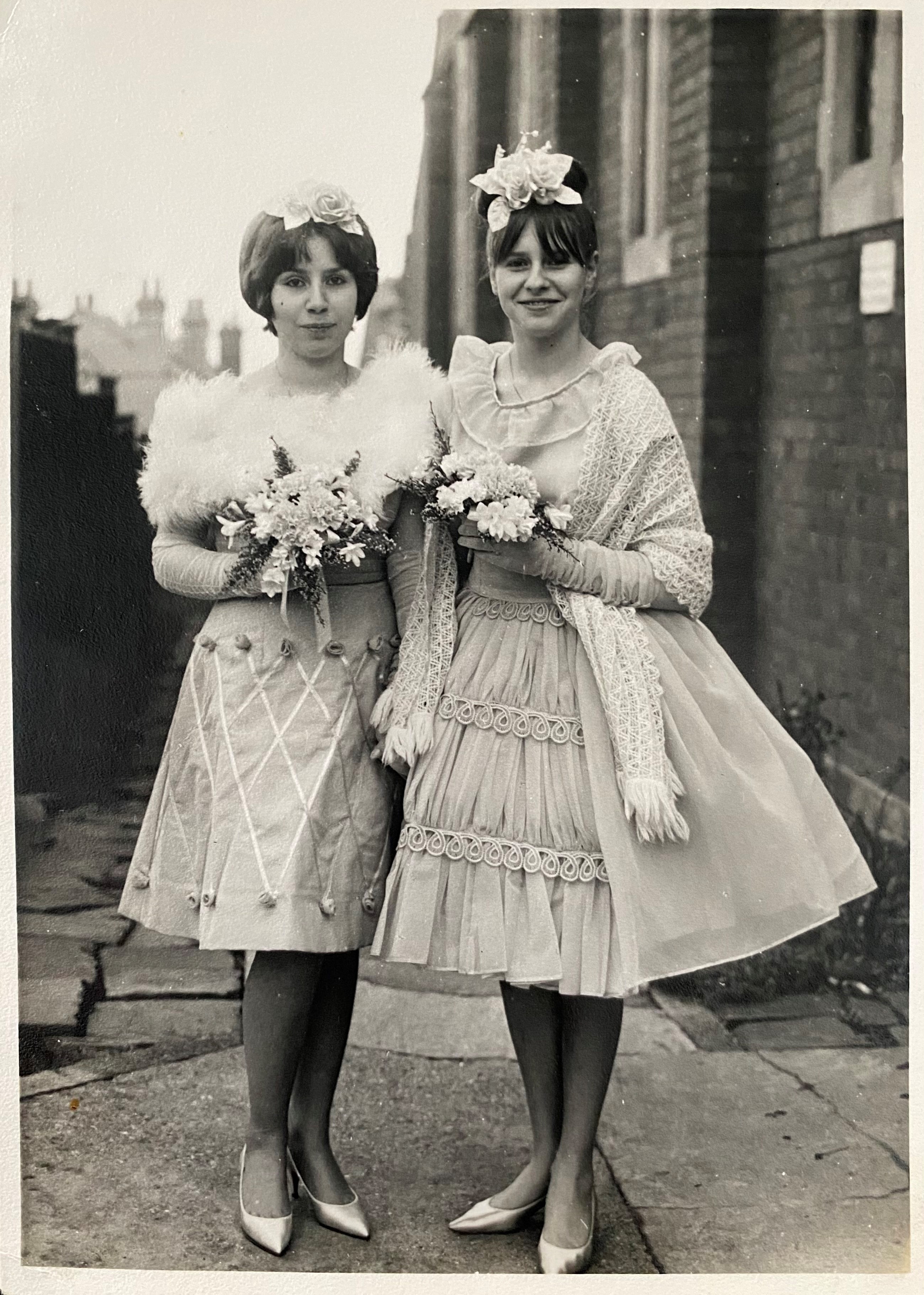 Sabatina and Sisto's bridesmaids
Anglo-Italian marriages were most common, but others married migrants from Croatia, Ireland and Ukraine. While Catholicism united these individuals, others bonded over the shared migrant experience.  
Despite marrying into other cultures, traditionally British-born Italians were expected by their families to marry Catholic and Italian, and to start a family at a young age. This widespread expectation made it challenging for Giulio to open up to his family about being gay. 'My parents were old fashioned', he said. 'It was not something I wanted to say to them or anyone in the family. It was difficult'.
With religion and its traditions so important to Italian migrant identity, homosexuality remained a taboo subject among Reading's Italian community and in Italy after the Second World War. While homosexuality was legalised in Britain in 1967, homophobia in England was still frequent and directed towards both sexes. For Giulio, it was difficult to feel accepted within his Italian and British communities, albeit for different reasons.
Reading is now a diverse and multicultural town and individuals are more accepting of the different forms that marriage can take. In 1990s Reading, Giulio secretly went to gay bars, hiding his sexuality from his family. This would not have been possible in his parents' rural town in Italy. Even though Giulio had to enjoy these places in secret as a teenager growing up in Reading, Giulio found them very liberating.
Today, being gay and Italian is more widely accepted, but the community's close connection with Catholicism can still affect relationships. Giulio has since married his lifelong partner.
Comfort or conformity: the evolving role of the church
Aside from fulfilling sacraments, the Catholic Church encouraged socialising with other Italians. Many events organised by the Italian Club were first discussed after Mass on Sunday.
The church also helped with homesickness. All of Antonietta's family were in Italy. She struggled with the reality of settling in Reading permanently. For her, church was a source of comfort and strength and reminded her of home.
I used to go to church every day after work, light a candle and ask God to take these feelings away from me. After that, I never thought of going home anymore.

- Antonietta
Other sources of comfort came from statuettes of the patron saints of migrants' hometowns. With greater disposable income, these were brought from Italy and displayed in Reading homes. For Pietro, it was San Pellegrino, and for Rocco, it was Padre Pio.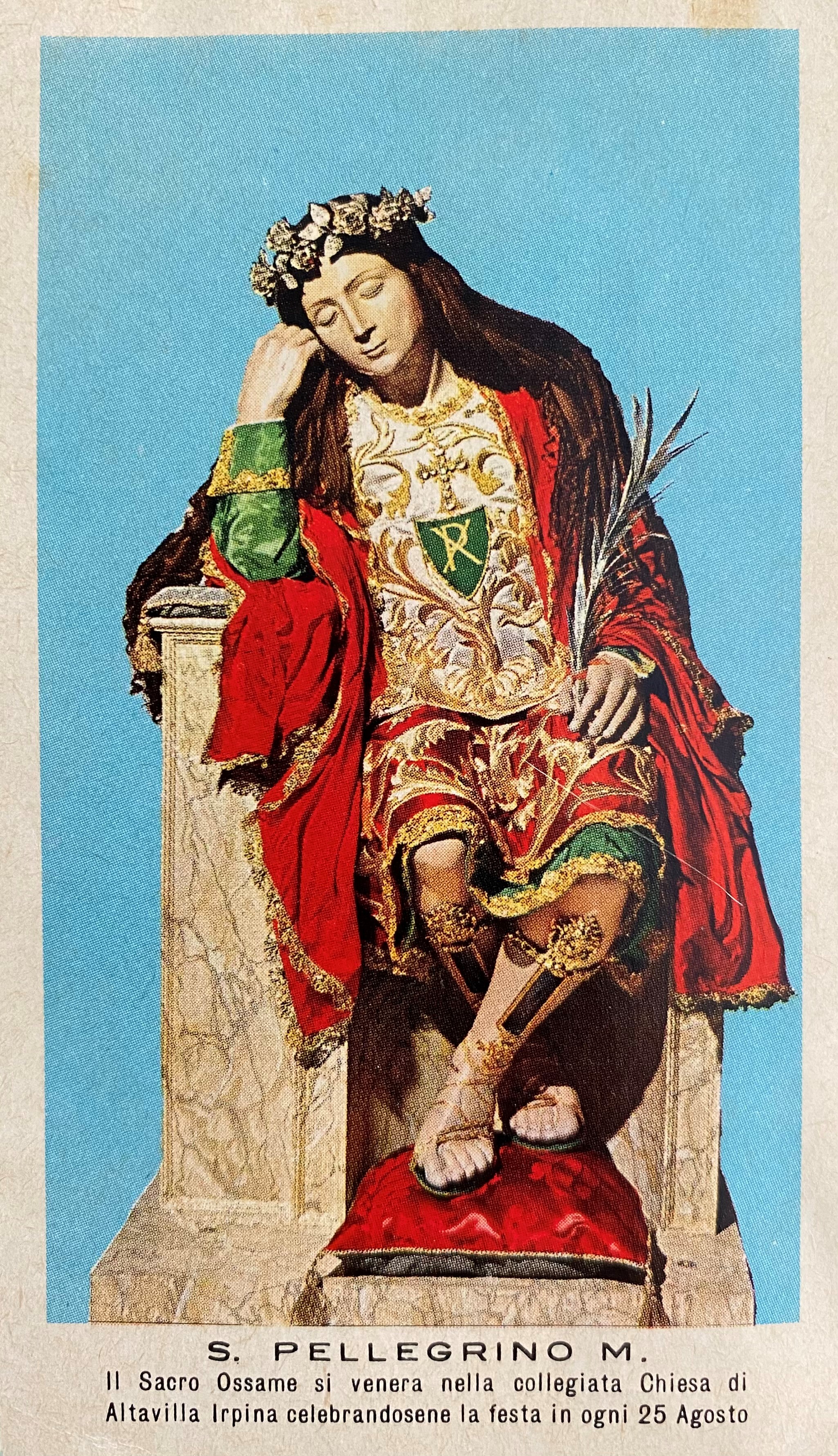 San Pellegrino.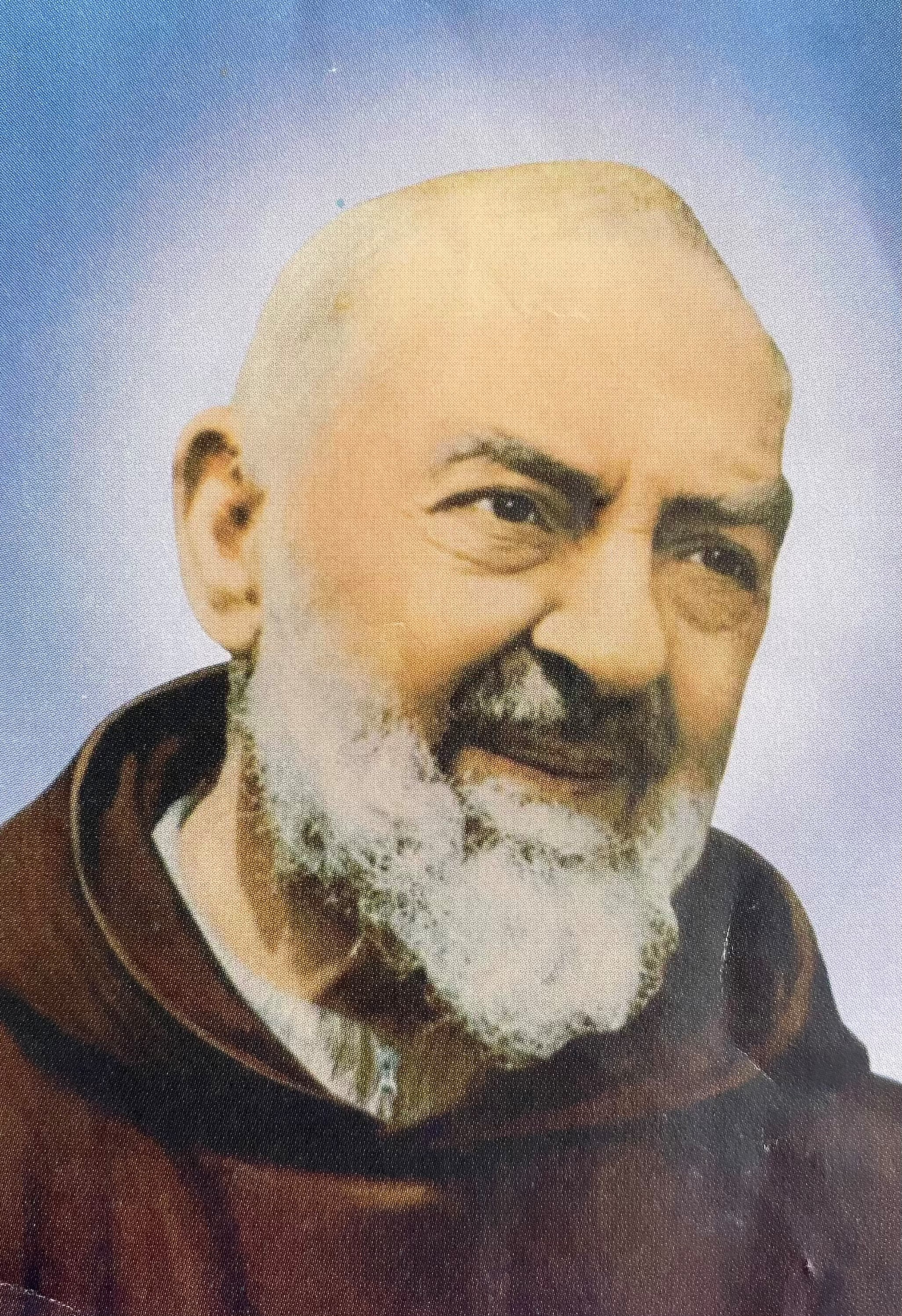 Padre Pio.
Saintly statuettes made a house a home, offered divine protection, demonstrated the family's respectability and expressed an individual's local identity in Reading.
As Reading's Italian community has grown with second, third and fourth generations, the role of these saintly statuettes has developed. Some British-born Italians use these to provide luck. Italy beat France in the 2006 World Cup 5-3. During that final match, this Italian family in Reading placed their statuette of Padre Pio beside the television: the side on which Italy had to score.
When Italy scored, Italians thanked Padre Pio by kissing him on the head!
The legacy of superstition
Aside from a strong piety, another large part of village life was superstition. As Italians moved to Reading, so did their popular beliefs. Superstitions allowed people to feel safe and protected in a new and potentially hostile environment.
One of the most well-known superstitions is the Malocchio (evil eyes). As children, Mena and Giulio remember their elders discussing the Malocchio and the ritual required in order to reverse it.
The role of religion today
Today, the role of religion has changed. As communal ties are either looser or forged elsewhere, for some religion is more of a personal and private entity. This transition has been aided by the pandemic. While the church is still a highly respected place of religious worship, many within Reading's Italian community now realise that they can practise their faith without going to church. For others, religion is understood as a tradition connecting them to their Italian heritage.
Roman Catholicism is still an important aspect of Italian identity. However, as Reading's Italian community continues to grow, the role of religion and importance of the church will forever take on new meanings and connect Italians to their heritage in ways distinct to them.
We aren't necessarily the most practising Roman Catholic family but traditionally, when you are a kid you get Christened [...] I don't do it for any other reason apart from tradition and culture.

- Paolo (second-generation Italian)