This is where you can find out more about how to identify your objects, donate objects, access our collections, enquire about use of images and contact the collections team.
Can you identify an object for me?
We run a Museum Surgery every Thursday 12 noon - 4pm. Just drop-in to talk to staff about the museum's collections or to ask for help in identifying your interesting objects. We are unable to give valuations.  Find out more on the museum what's on pages
Do you accept donations/gifts to the collection?
We welcome offers to the collection, and we collect in four areas of art, archaeology, natural history and social history. However what we collect follows a policy - known as the Collection Development Policy (download below).
The Museum's Acquisition Group makes the final decision about whether an object is to be accepted in line with the policy's strict collecting criteria including geographical, ethical and legal issues.
If you wish to offer us an object, please use the Collections Enquiry form. Try and give us as much information as possible about the object including what you know about its history and its current condition.
What research facilities do you have?
We have two spaces where you can view reserve collections or background information by appointment with a curator. The Study is a quiet area at the Museum for the public to carry out research and other creative projects. Here you can examine objects from the collection that are not on display, in particular the extensive insect collection which is housed on-site. Microscopes and insect identification guides can be provided with advance notice - please enquire about availability. The Research Room at our offsite store is also available to examine objects from the collection which are not on display, including archaeology, botany, ceramics, costume, geology, social history, world cultures and zoology. Visits are invited from anyone - specialists and beginners, scientists and artists alike. Please use the Collections Enquiry Form to arrange an appointment.
If you are a student planning to use our collections as part of your dissertation or PhD, please contact us well in advance to ensure we can support you.
Do you accept archaeological archives?
We collect archaeological archives from within the Reading Borough boundary following the Museum's Collection Development Policy. Our Acquisition Group makes the final decision about which archaeological archives are accepted. All archaeological archives must be prepared following our Archaeological Archive procedures (see the download below). Please contact us if you would like to deposit an archaeological archive.
Images and photography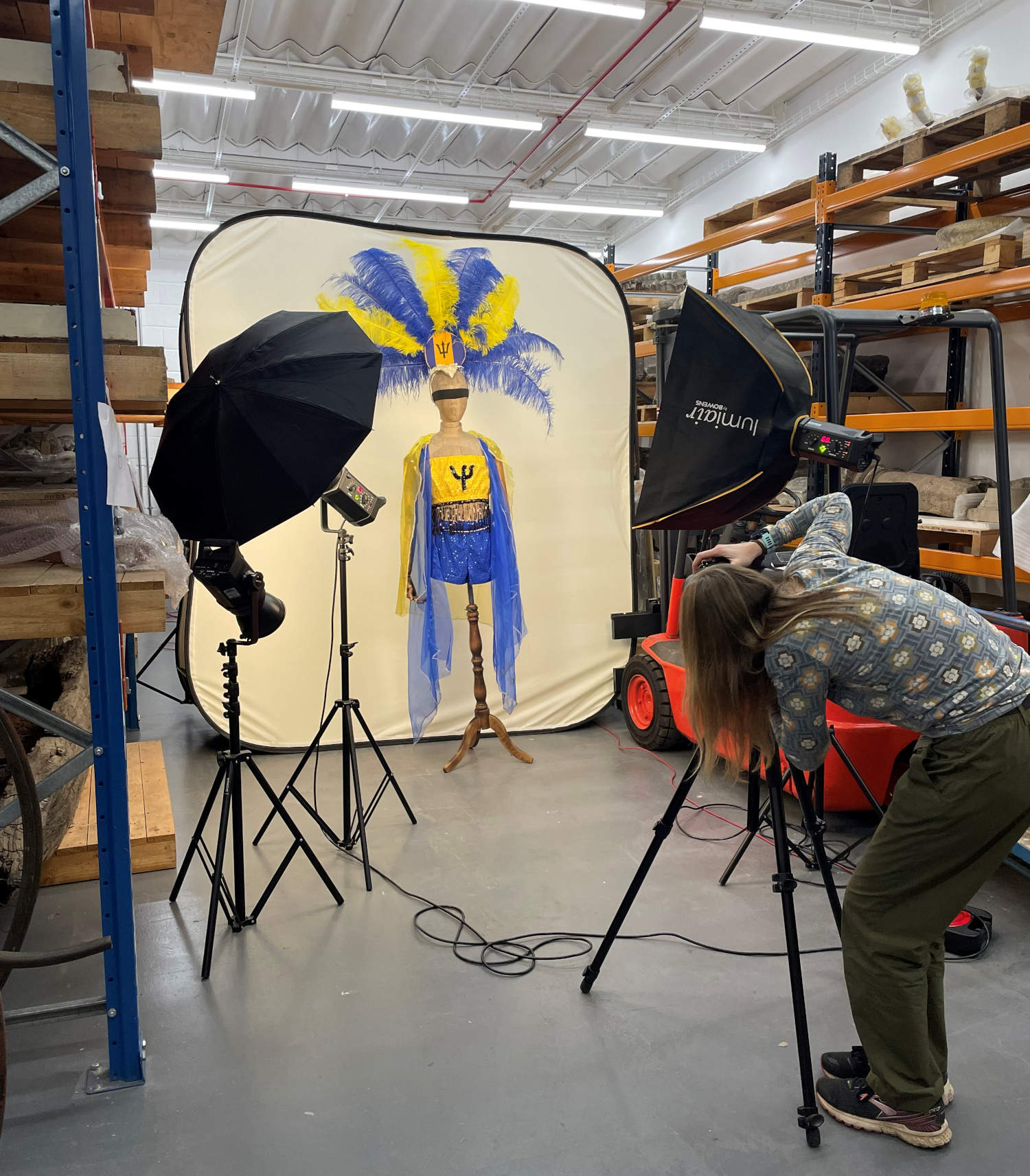 Staff photographing a Barbados carnival costume at the museum store
Can I take photographs in the Museum galleries?
We welcome still photography without flash or tripod for personal and non-commercial use only, except where signs show otherwise. If you are posting on social media tag us @readingmuseum
Photography is usually not allowed in the Sir John Madejski Art Gallery due to the copyright of artworks on display. For full details and conditions please download our photography policy below. For commercial photography and image use please use our Image Enquiry form.