The Thames Valley has a long history of floods. According to the Environment Agency, the Thames catchment area (the land that drains into the Thames at Reading) covers 4,640 square kilometres, which includes the Kennet, Loddon and Pang rivers, plus smaller streams and brooks. Indeed, as a meeting point of multiple waterways (particularly the Thames and the Kennet), Reading's rivers have historically been of strategic and economic importance to the town and its people (whether permanent settlers or temporary inhabitants): from the Vikings in the winter of 871 AD, to the rise of Reading Abbey, the English Civil War, and beyond.
While flooding has been a regular occurrence throughout Reading's history, once or twice a century, the town has experienced floods of catastrophic proportions. Extreme events like these are well-documented both in Reading Museum's collections and in our town's cultural memory. For example, flood marks at Mapledurham Lock record the high water levels of 1894, 1947 and 2003. You can also see an 1894 flood marker on the bank of the River Kennet from the window of the Turbine House at the Riverside Museum at Blake's Lock.
In this blog, part of Our Green Stories, learn about the causes of flooding, explore examples of some of the most impactful floods in the history of modern Reading, and find out about how flooding is countered and offset.
What causes floods?
There are many causes of flooding, and they vary throughout the year. In winter, heavy rain, melting snow and frozen ground can all lead to flooding as watercourses breach their banks. In summer, thundery downpours onto dry land (unable to absorb so much water) can cause flash flooding as drains and rivers overflow. Both the occurrence and the severity of flooding is increasing due to the impact of climate change. 
1894
In 1894, Reading experienced a catastrophic flood. Over 26 days, between 23 October and 17 November 1894, more than eight inches (20 cm) of rain fell throughout the Thames Valley. The Berkshire Chronicle said there had never been such a flood in Reading in living memory.
By 17 November 1894, the flooding of the River Thames had reached along Caversham Road and up Great Knollys Street in central Reading. Blake's Cottages bedside the River Kennet were submerged, and the inhabitants had to leave their lower rooms. Hundreds of families were forced to abandon their homes, while more had to reach theirs by boat and cart.
Communication with Caversham was only possible by means of vehicles. King's Meadows, Caversham Meadows, and Sonning Meadows grew completely submerged, as the Thames presented the appearance of an inland lake, stretching completely across to Lower Caversham.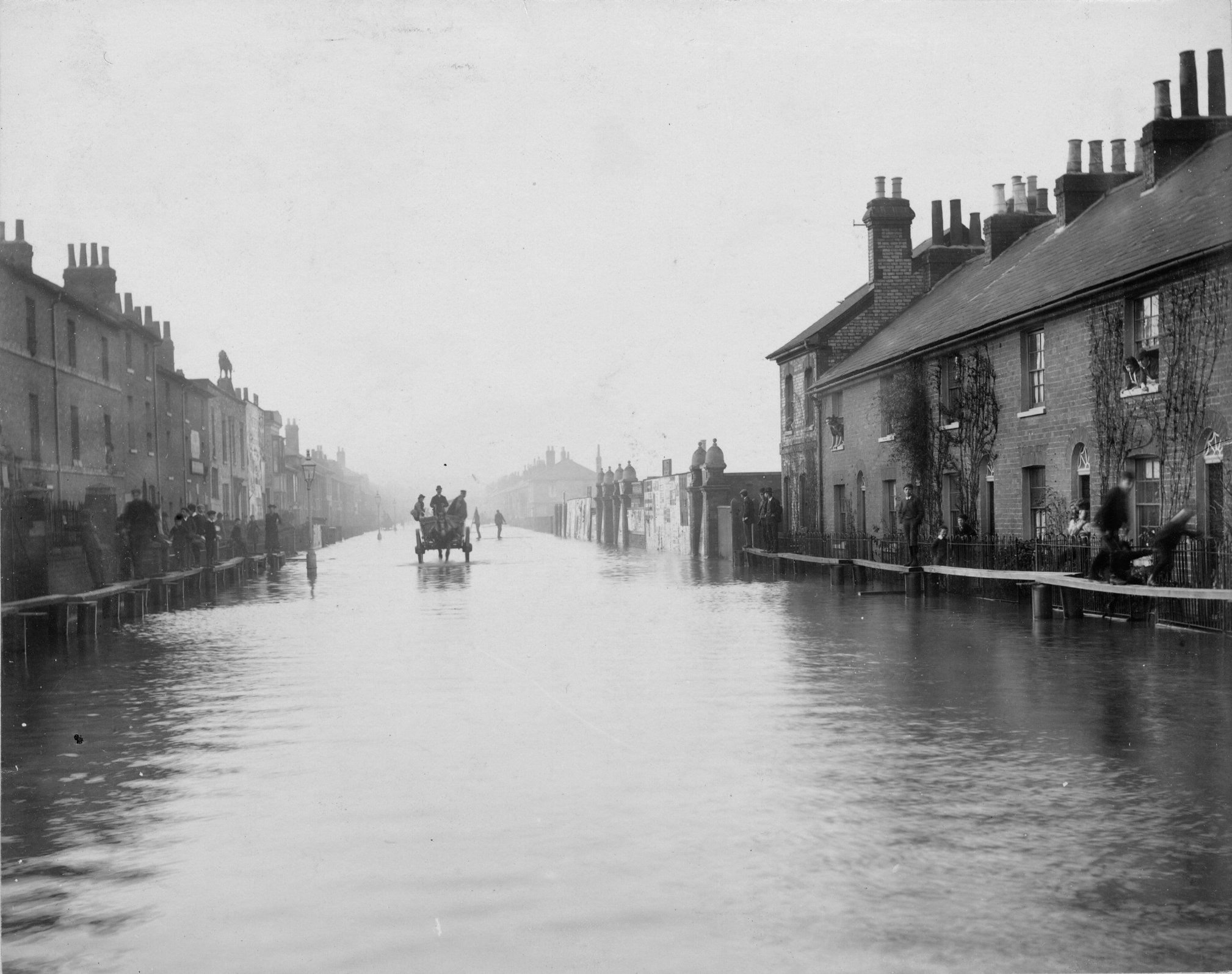 Flooded Great Knollys Street, winter 1894-95, showing duck boards with men and boys. (Object number REDMG : 1997.150.282)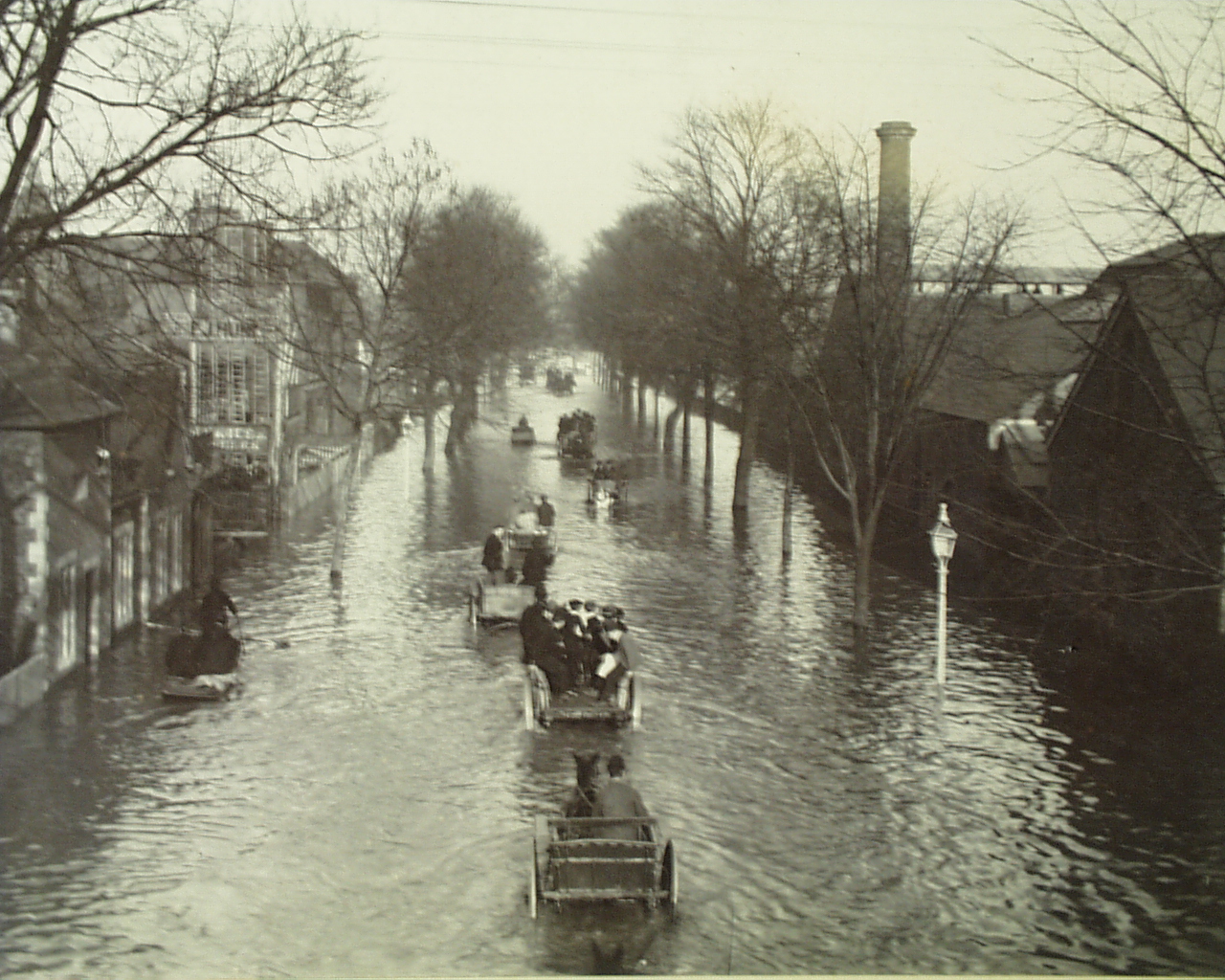 Caversham Road, 21 November 1894, taken by S. V. White, Reading. (Object number REDMG : 1980.183.1)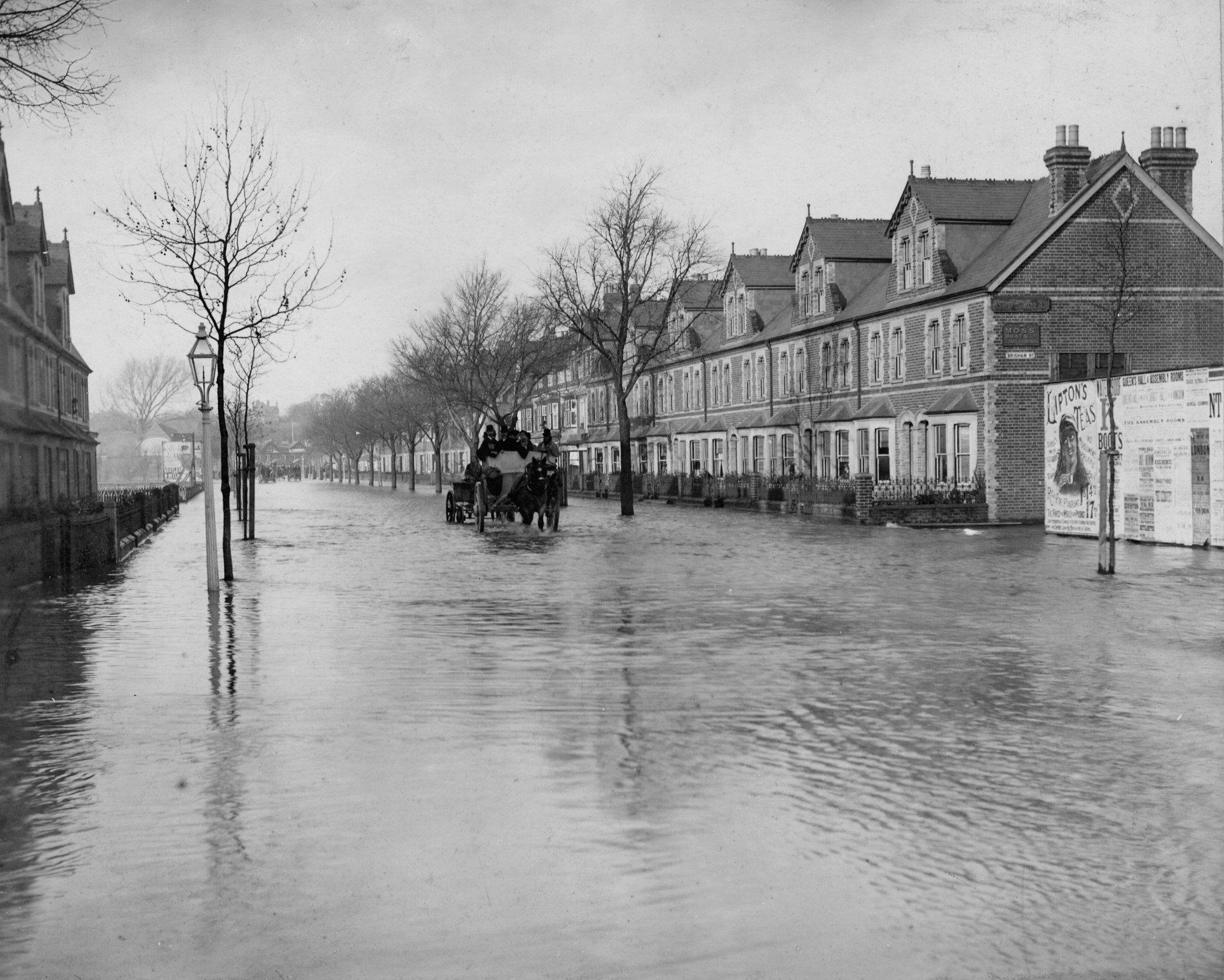 Flooded Caversham Road at Brigham Road, Winter 1894-95, horse and cart pass through the flood waters. (Museum object number REDMG : 1997.150.283)
1903
For Berkshire, October 1903 was the wettest month in a century, as 179.6 mm of rain fell throughout the area. The Kennet water meadows in southwest Reading did their job to take the flood water.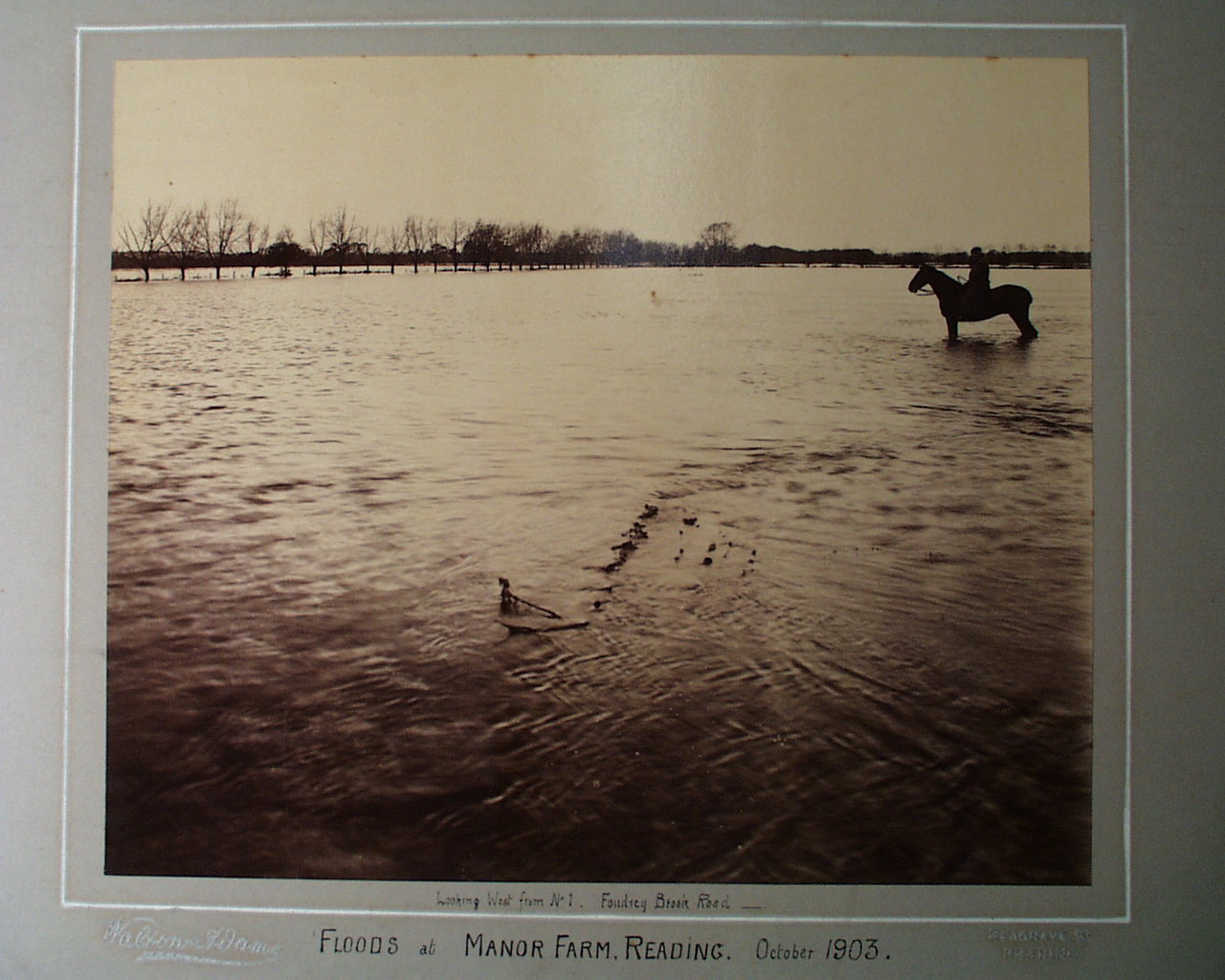 Manor Farm, Reading during the floods of October 1903, by Walton Adams. Looking west from Foudry Brook Road. (Museum object number REDMG : 1946.16.4)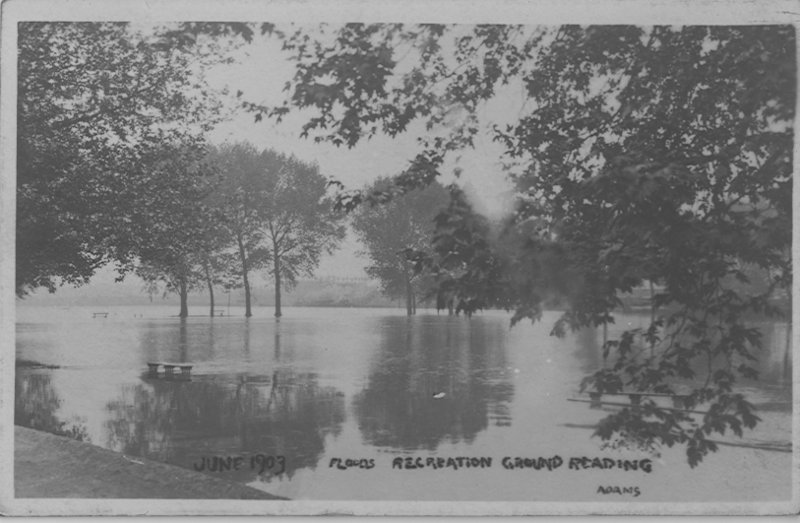 Postcard showing floods at a recreation ground in Reading, June 1903, thought to be King's Meadow looking towards the Great Western Railway. (Museum object number REDMG : 1966.96.5)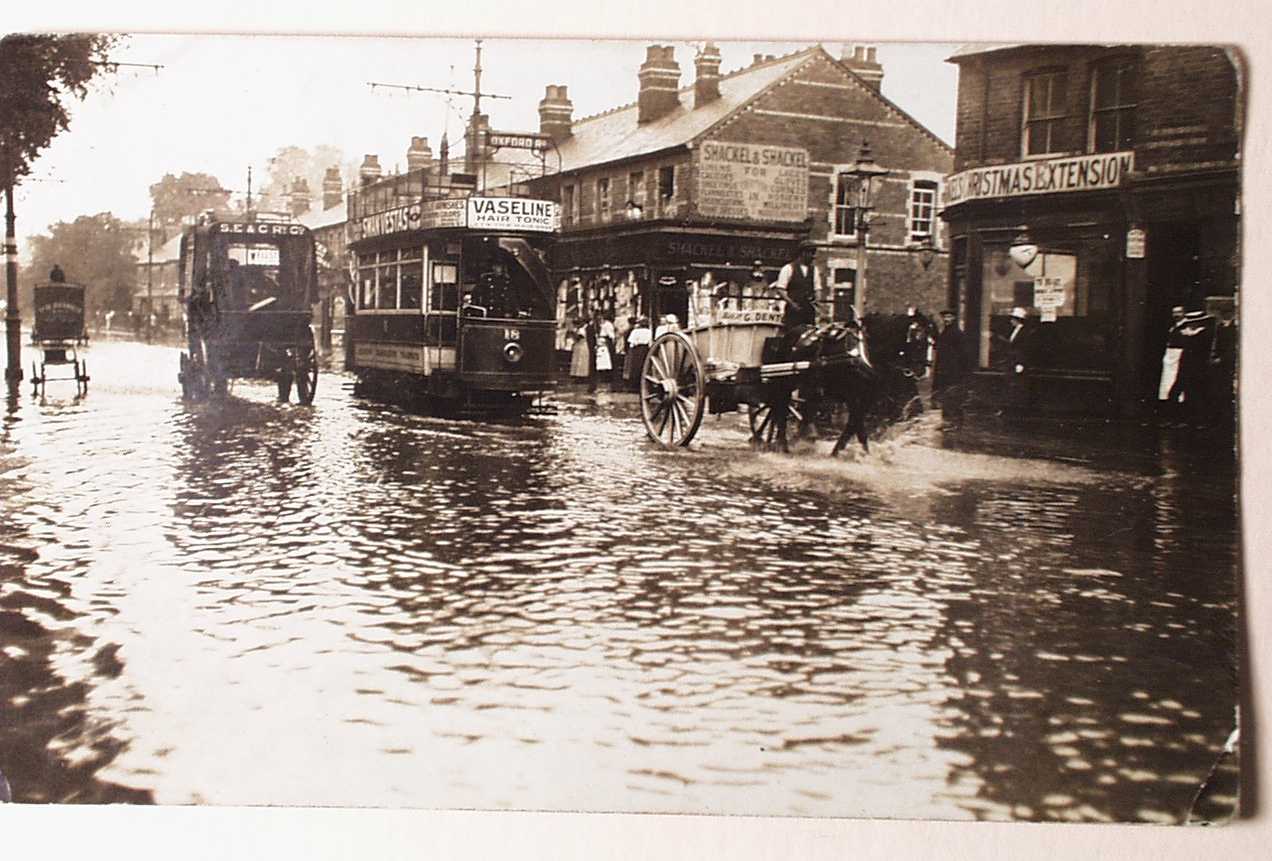 Postcard of Oxford Road by C.E. May, at its junction with Connaught Road. Probably dates to 9 June 1910. (Museum object number REDMG : 1966.95.6)
Flood protection
There are a range of flood protection methods that are used to deter the risk of flooding. These include building flood walls and defences, creating bypass channels, flood storage, dredging, and maintaining existing measures like weirs and flood plains. Climate scientists are investigating flooding data and working on ways to reduce the risk of flooding. At the University of Reading, researchers are assessing methods of flood prediction to help vulnerable communities and evaluating natural methods to reduce flood risk (Loddon Observatory).