This iconic sculpture commemorates the soldiers of the Royal Berkshire Regiment who lost their lives at the Battle of Maiwand in 1880.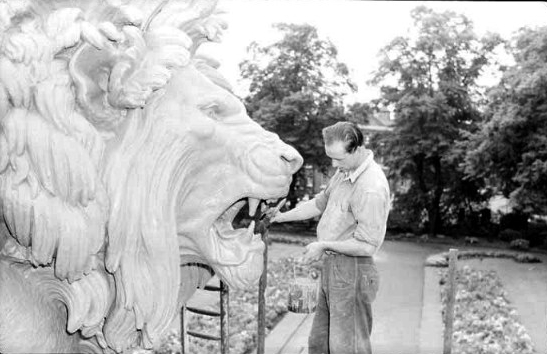 Maiwand Lion repaint, 1957 (Reading Chronicle Collection - museum no. 1980.36.C570.9)
Digging Deeper - a Local Myth
The lion was sculpted by George Blackall Simonds who was part of the Reading based 'H & G Simonds Brewery'. It is a popular local belief that the lion has been sculpted in a stance that would be impossible for a lion to stand in. The myth continues to say that Simonds was so distraught upon discovering his error that he killed himself. However London Zoo themselves have confirmed that the sculpture is anatomically correct and that a lion could stand in such a way. As for Simonds, he continued as a sculptor and lived into his eighties. Other notable works of his in Reading are the statues of Queen Victoria in Town Hall Square and George Palmer in Palmer Park. More further afield he is known for 'the Falconer' in Central Park in New York City.
George Blackall Simonds by Sir Oswald Birley (REDMG : 2007.637.1)
Digging Deeper - Dr Watson
The character of Dr Watson in the Sherlock Holmes is based on a real medical officer, Surgeon-Major Alexander Preston, who survived Maiwand. In A Study in Scarlet​, Watson describes his fictional experiences: "The campaign brought honours and promotions to many, but for me it had nothing but misfortune and disaster. I was removed from my brigade and attached to the Berkshires, with whom I served at the fatal battle of Maiwand. There I was struck on the shoulder by a Jezail bullet, which shattered the bone and grazed the subclavian artery. I should have fallen into the hands of the murderous Ghazis had it not been for the devotion and courage shown by Murray, my orderly, who threw me across a pack-horse, and succeeded in bringing me safely to the British lines."