Find out about our Create a Buzz project that explored the importance of bees in the natural environment, working with local children to get creative inspired by our collections.
Between January and April 2023, Museums Partnership Reading (Reading Museum and The Museum of English Rural Life - The MERL) worked with a total of 120 children from St John's CE Primary and Alfred Sutton Primary on the Create a Buzz project. Create A Buzz is all part of The Wild Escape and made possible by lead support from Arts Council England's National Lottery Project Grants, with additional support from Art Fund. Museums Partnership Reading are proud to be involved in The Wild Escape, the largest ever collaboration between the UK's museums.
Over 500 museums are taking part, organised by the Art Fund in partnership with the WWF, the Royal Society for the Protection of Birds, the National Trust and English Heritage. It aims to inspire hundreds of thousands of children to visit museums and respond creatively to the threat to the UK's natural environment and biodiversity by looking for animals featured in museum collections and creating their own wildlife artworks.
Museums Partnership Reading decided to focus our project on the importance of bees in the natural environment, working with the children to get creative and learn about the wonderful things bees do for nature. We decided that the students from both schools should create bee artwork inspired by our collections. These would be displayed in the museums in two exhibits to be unveiled on Earth Day, 22nd April 2023, in a day of family-friendly activities at The MERL. In the lead up to the big day, we ran several workshops with the schools to teach them about bees and give them ideas for their artwork.
As an early-career museum professional, I was really pleased to have the chance to take a role in the organisation and execution of this project. I have been passionate about environmental issues for several years, and something that I love about Museums Partnership Reading is its commitment to exploring climate change, sustainability, biodiversity loss and related issues through our collections in the Our Green Stories campaign. Over the four-month project, I learned and built upon career-boosting skills in project management, budgeting, resource design, educational engagement and so much more.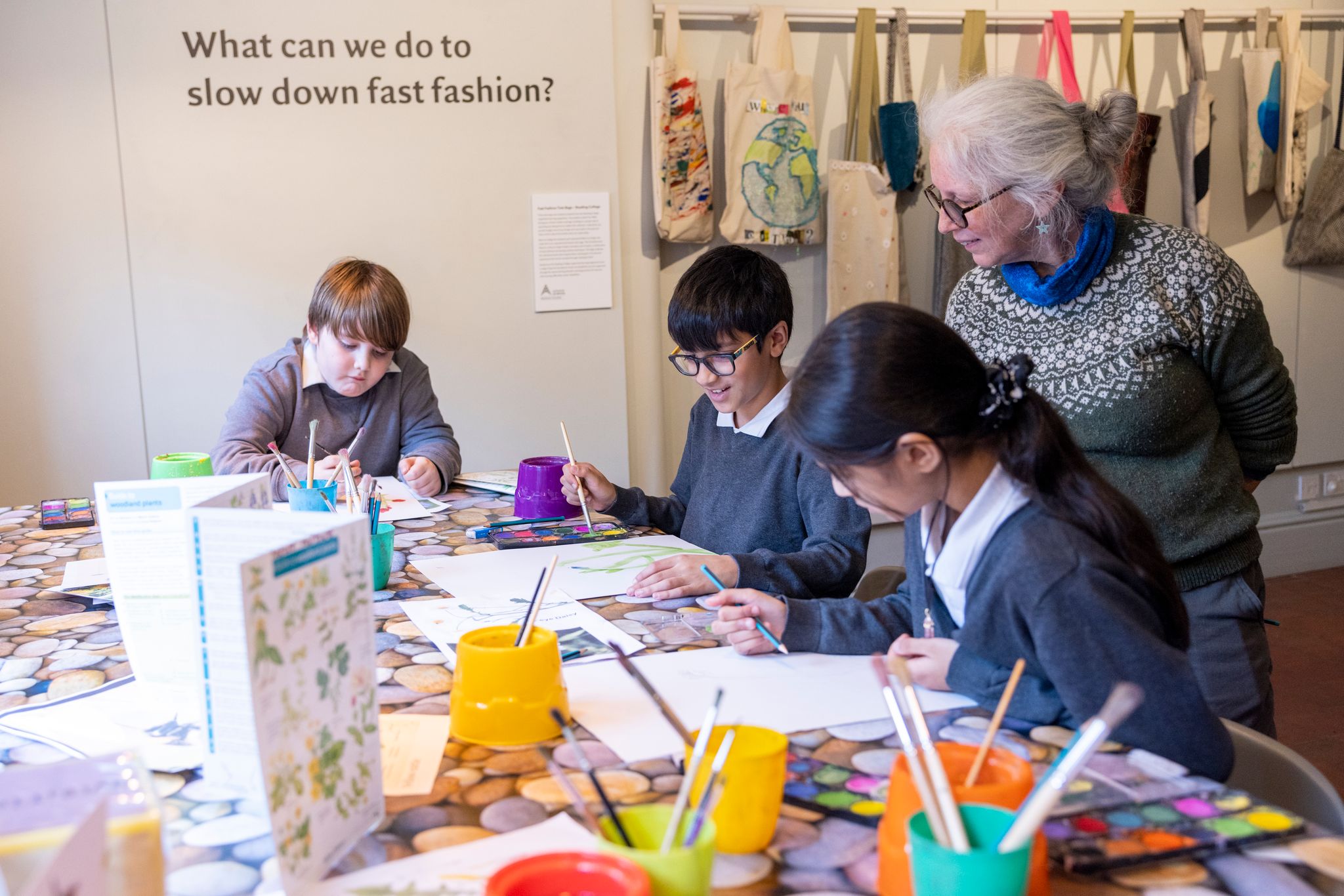 Alfred Sutton Primary School students making paintings with a session leader
So, what did we get up to?
Reading Museum worked with Y3 students from Swallow class and Peacock class at St John's CE Primary School. On our first visit, the children made a beautiful tree full of ideas about nature and why it's important. Each child wrote a pledge on a leaf, sharing their ideas on what they would like to do to help save the environment. When all the pledges were stuck on the tree, we saw just how beautiful the environment could be if we all kept our climate promises!
The children then came to visit Reading Museum to get inspired and think creatively about the environment using the collections on display. They had great fun making beautiful sketches of the animals in our Green Space gallery using the sketchbooks we gave them! They then redesigned their animals using bright colours and shapes inspired by the Abstract Art exhibit.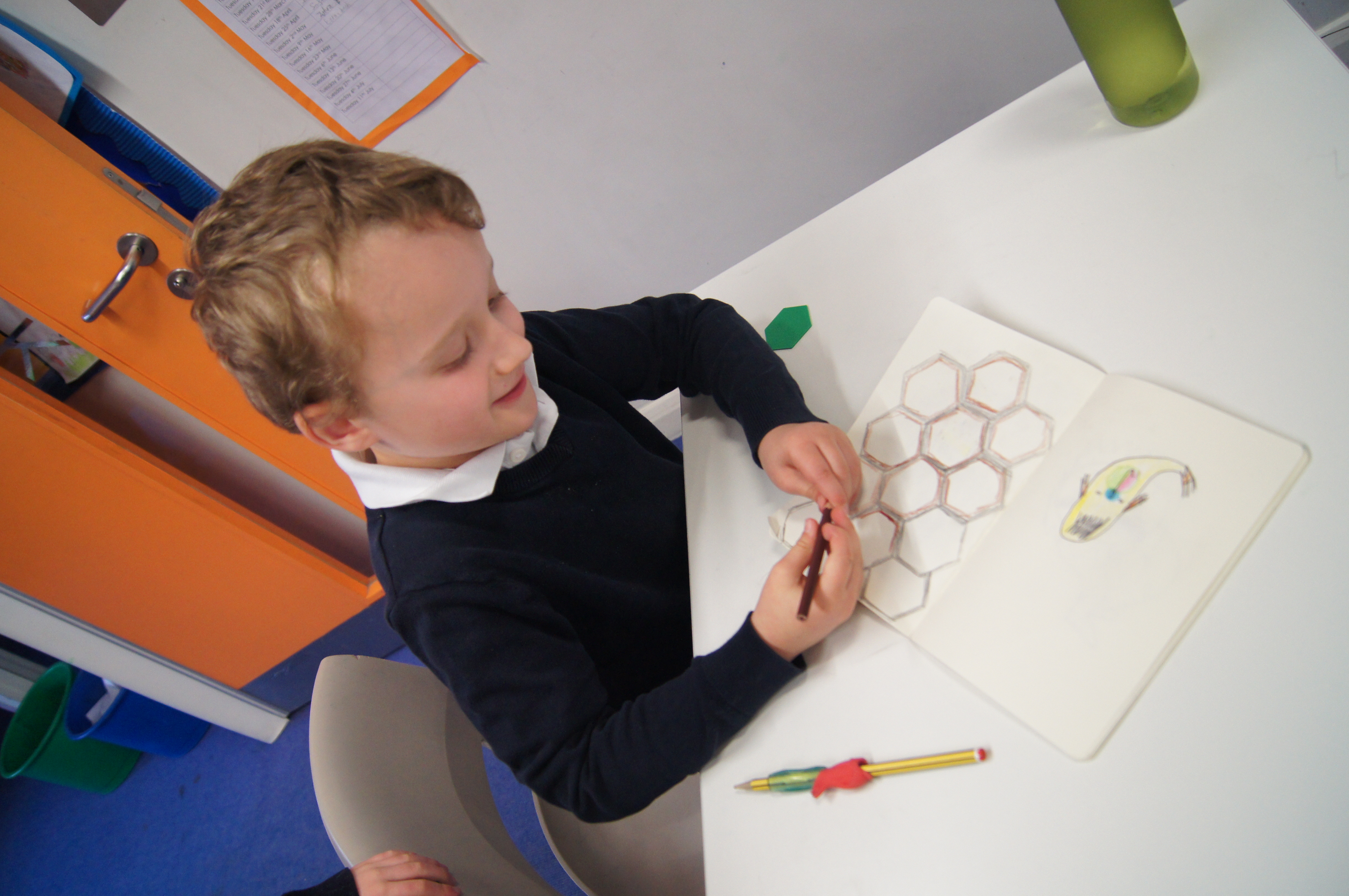 Child from St John's CE Primary sketching honeycomb
"I liked drawing the animals and learning about nature."
"I discovered that nature is really interesting and fun to learn about."
Meanwhile, The MERL started a dynamic and enriching programme of activities with Y5 students from Alfred Sutton Primary School. They focused on the exploration of bees and their habitats through the collections and outdoor learning. The children were particularly inspired by their investigation of The MERL's 1951 Festival of Britain wall hanging depicting the county of Cheshire. They used this and other objects in the museum collection to consider how changes in agricultural practices have impacted the lives of bees.
Taking their exploration outside, the children went on 'bee quests' in the museum garden, led by an Environmental Educationalist. The children also learned about changes to our local wildlife corridors – areas of habitat connecting wildlife populations separated by human activity – and their significance.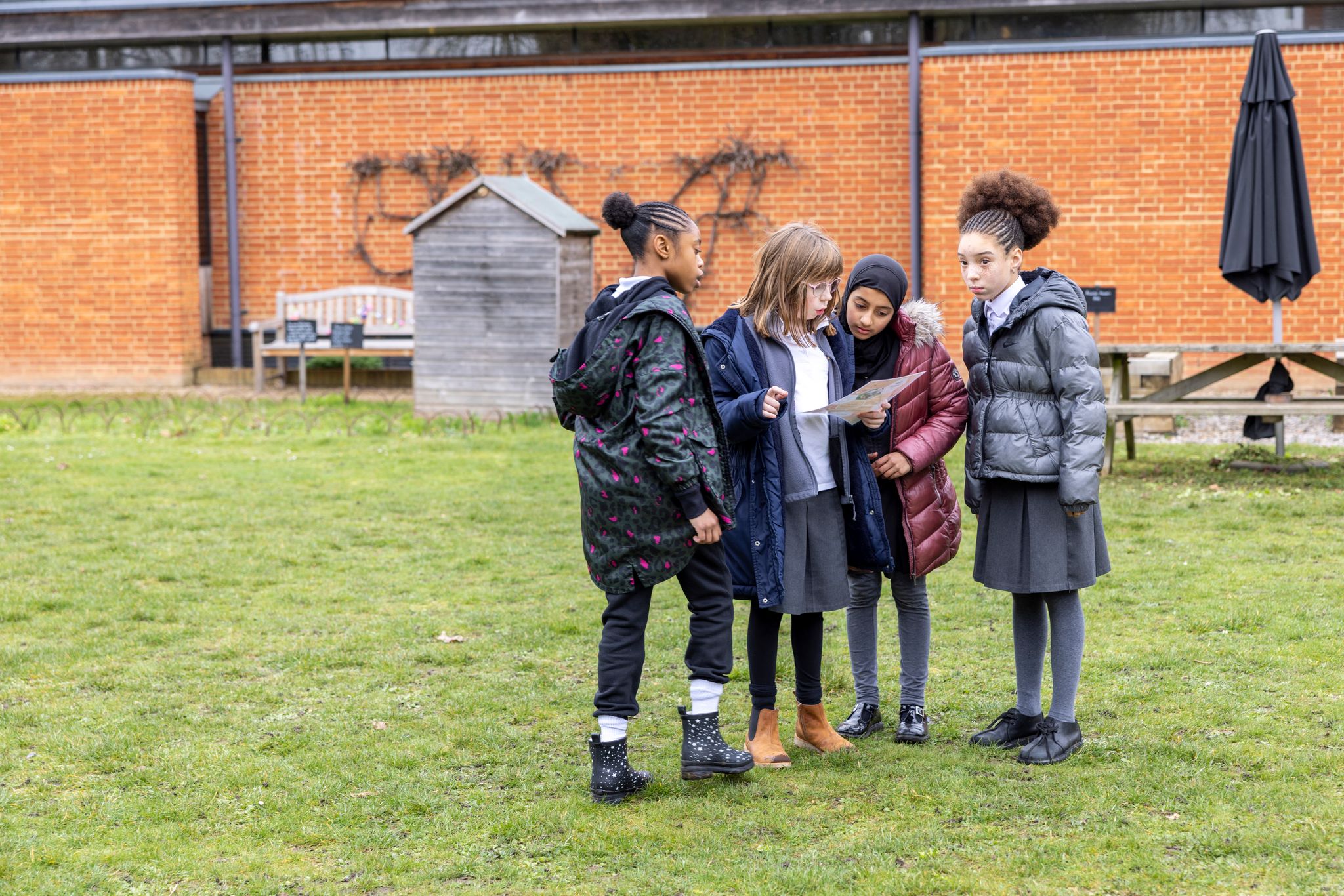 Children on a bee quest in the Museum of English Rural Life garden
"I liked how in the quest there was a lot of garden bees and I spotted four and one near the wall"
"I liked that we did different activities and that now I know things about bees"
Back at St John's CE Primary, Reading Museum visited to show the children some bee specimens from our collections. Collections curator Angela was really impressed with the children's bee knowledge! The children loved looking at our bees and the historical bee-keeping equipment we brought with us, kindly loaned by art curator Elaine.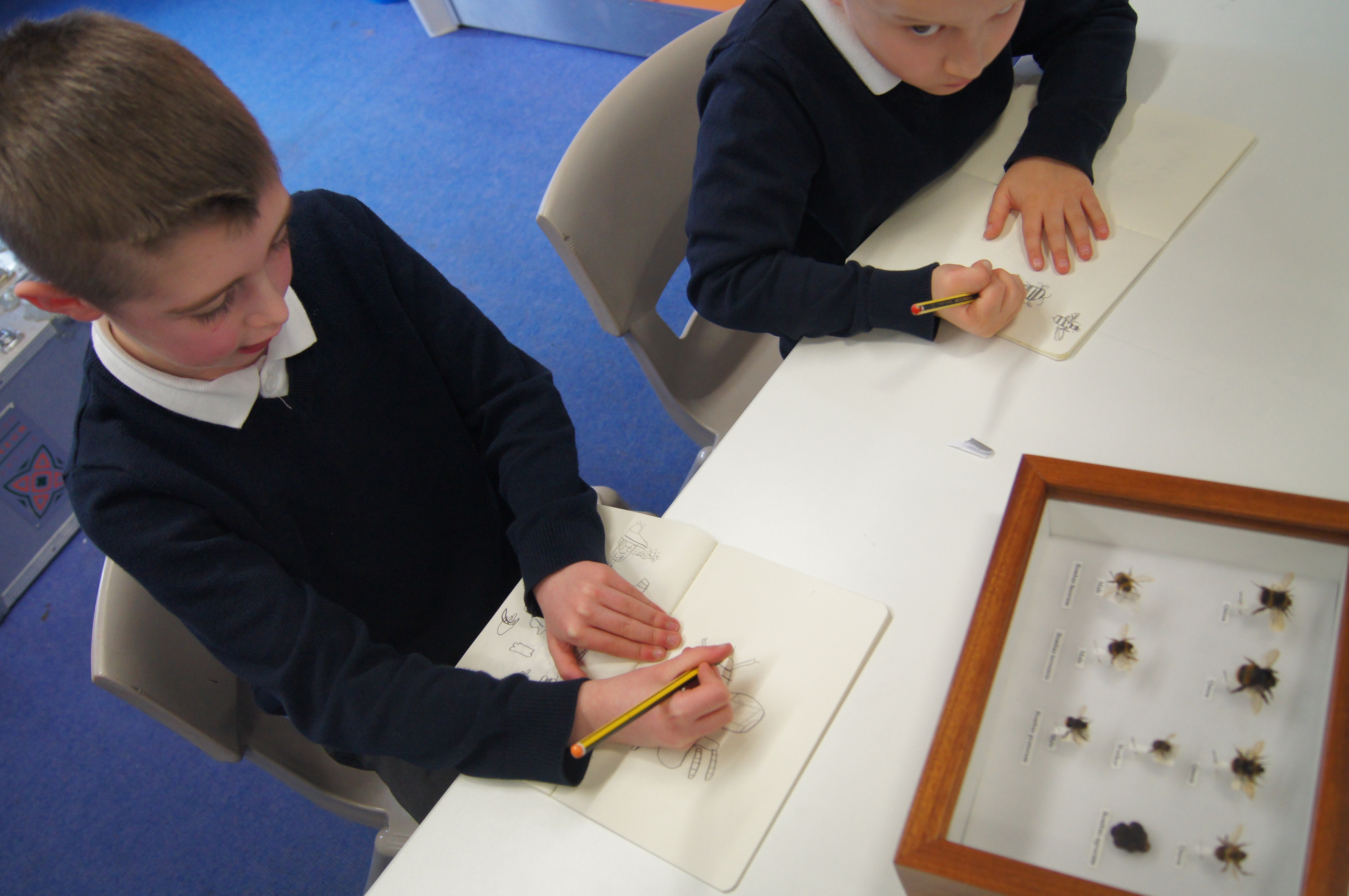 Children from St John's CE Primary sketching bee specimens from Reading Museum's collections
A month later, St John's invited the learning team from Reading Museum and the children's parents back to school for a special exhibition showcasing their artwork. We loved the children's 2-D and 3-D bees, which were inspired by the natural history and abstract art exhibits at the museum. The children had made 'natural' bees using alder cones, felt and cotton, as well as some amazing 2-D artwork in bright colours using a clever printing technique! They even went above and beyond the project brief and made some extra 3-D clay bees using abstract colours and patterns.
Alfred Sutton also used alder cones to create their 3-D bees, getting creative in a fun workshop with Nature Nurture CIC. This award-winning group aims to 'support wellbeing and wildlife by connecting people with the wild spaces on their doorsteps'. As well as their 'alder bees', the children created 2-D painted habitats and persuasive writing pieces inspired by their previous workshops, and even had the chance to meet a local beekeeper!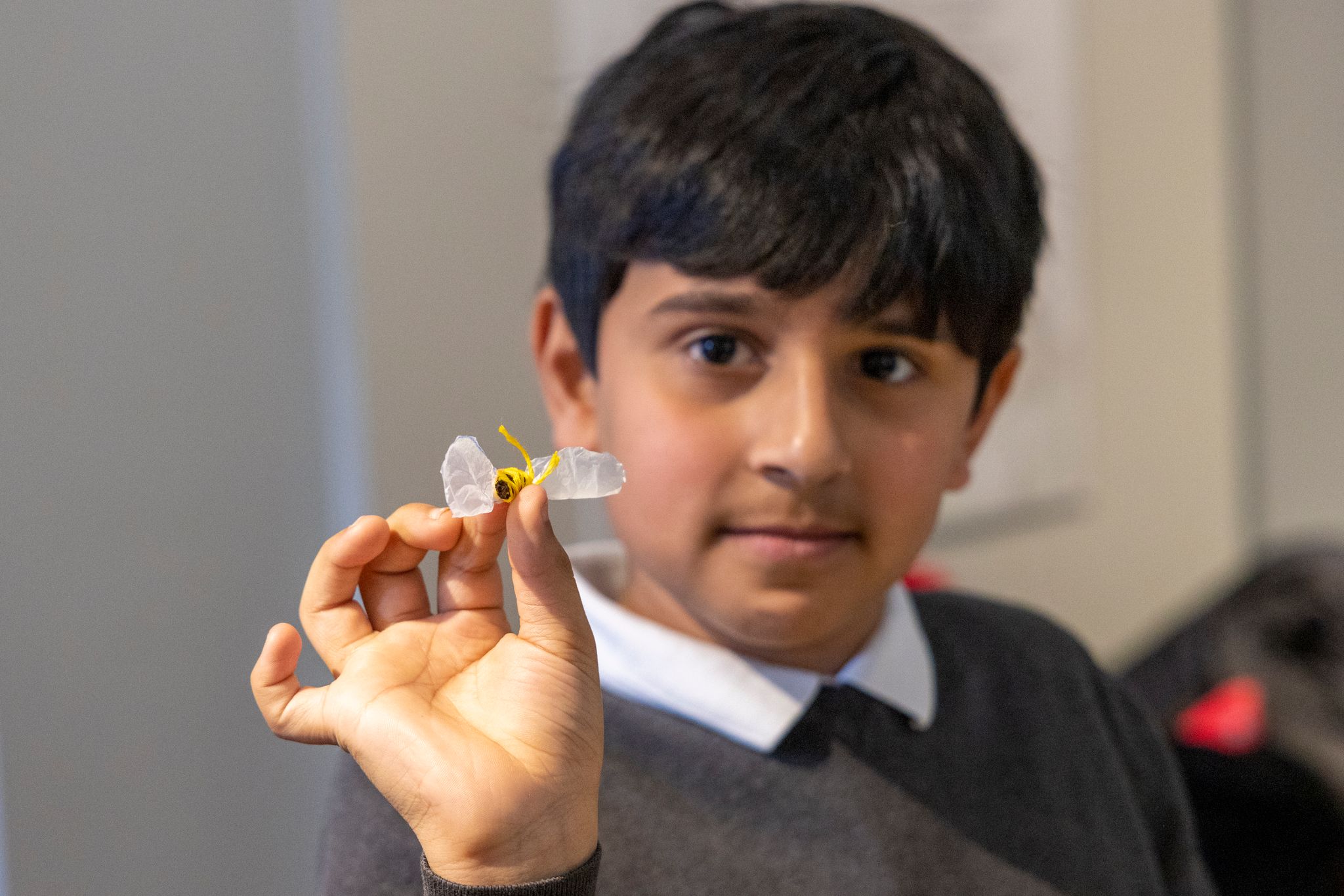 An Alfred Sutton Primary School student showing their alder cone bee
"I liked best when the beekeeper came and talked"
The children's art was unveiled on Earth Day, 22nd April 2023. At The MERL, the 3-D bee exhibit was opened to the public in a fun afternoon of family activities, with volunteers and workers from both museums taking part. More activities took place in Reading Museum, where the exhibit of 2-D artwork went on display in the corridor between the Green Space and Huntley and Palmers galleries. Both exhibits will remain on display during the summer holidays, so make sure to visit both museums and have a look at the amazing artwork!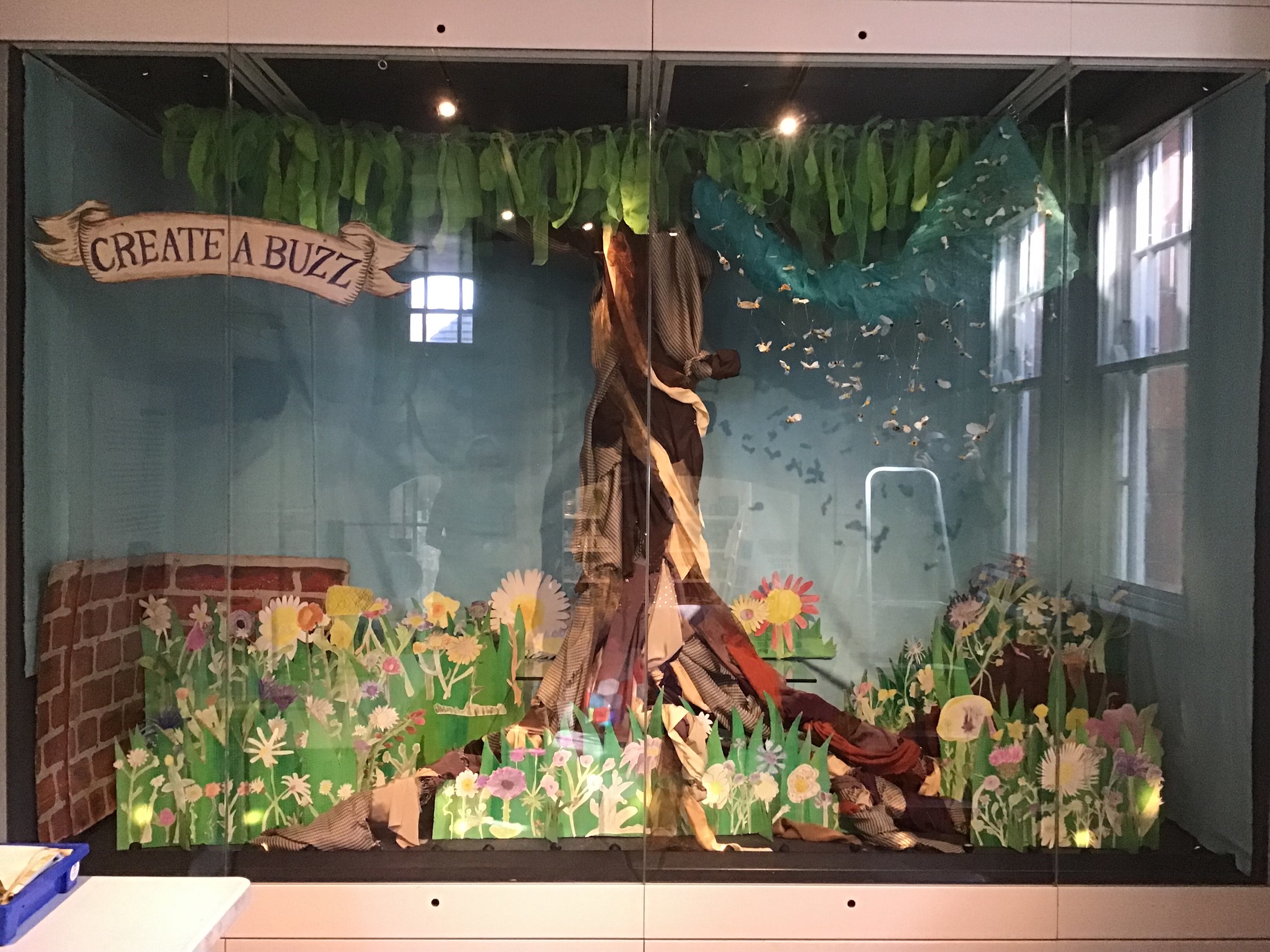 The MERL's 3-D bee display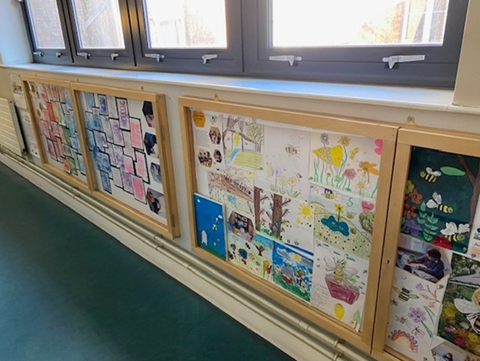 Reading Museum's display of 2-D bees
I'm proud to have worked on a project with such an important message behind it. Not only have I developed many skills over the short span of the project, but I have also genuinely enjoyed the positive outcomes of the project. It has been heart-warming to work with the children and educate them about the environment in a fun, engaging way. I hope that the project leaves them with a lasting desire to care about nature and the world around them, and that they continue to put into practise their climate pledges to help work towards a better and more sustainable future for everyone.