Museums care for artefacts dating back hundreds and thousands of years (and beyond), but our work is rooted in the present day. We conserve objects and archives to record the memories of the past—how people lived, the communities they formed, the environments they occupied, the animals and plants they were familiar with, the natural resources they exploited, and the tools and technologies that sustained them—and share this knowledge with our audiences. And from starry-eyed children taking part in our schools sessions to veteran researchers, people use our resources to enrich their daily lives in myriad creative ways.
Today, one of the greatest issues that affects us all is climate change. We all have a stake in building a more sustainable future, and yet the individual impact we each can make – and the extent to which we ourselves will be impacted – drastically varies across the globe. In the UK, we are among the 12% of the world's population that lives in the Global North but produces 92% of all emissions, and yet it is the global poor that will disproportionately suffer global warming's consequences. From the things we use and consume in our everyday lives, to the ideas that will help shape a more equitable world, we must also learn to recognise the value of indigenous knowledge in our shared future.
In the months ahead, Museums Partnership Reading (Reading Museum and The Museum of English Rural Life, supported by Arts Council England) will be focusing on exploring climate change, sustainability, biodiversity loss and related issues through our collections. We will champion the people and organisations in our community that make Reading a more sustainable place to live. We will share stories and information about the climate and caring for the world we live in through our platforms and spaces – from the classroom to the galleries, and online. And we will explore what we can do to help build a resilient and prosperous future for all.
The future of the world belongs to everyone. These are Our Green Stories.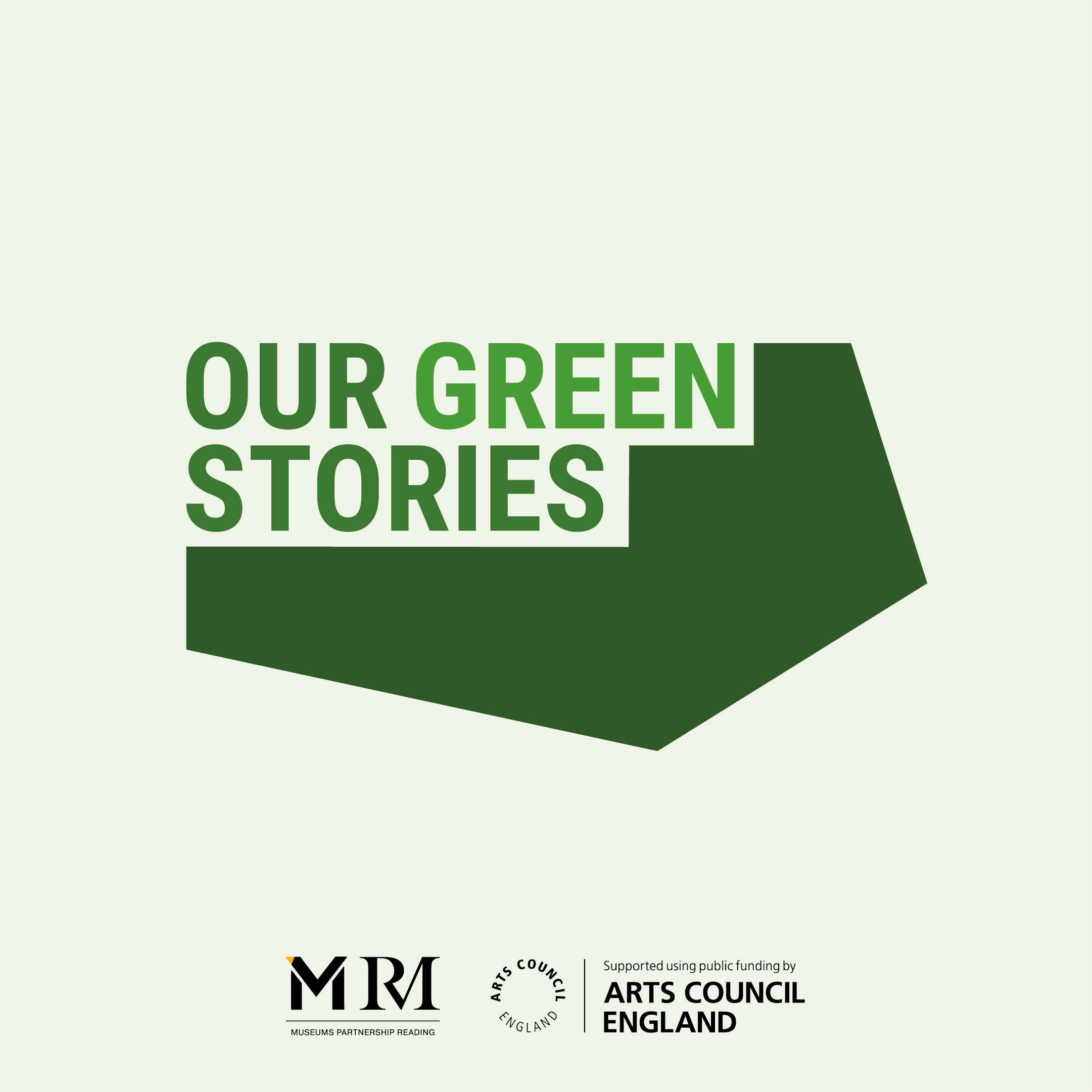 Defining sustainability: locally and internationally
People are suffering across the globe, and climate change is one of many interlinked problems. As we strive to identify and implement solutions, we cannot lose sight of issues ranging from poverty to starvation, housing to disease. We need to make a healthy world, not just a habitable one, and think more broadly about what it means to be green.
One set of guidelines that offer a holistic solution to the complex range of problems we face are the UN's Sustainable Development Goals. Together, these form 'an urgent call for action by all countries', recognising 'that ending poverty and other deprivations must go hand-in-hand with strategies that improve health and education, reduce inequality, and spur economic growth – all while tackling climate change and working to preserve our oceans and forests'.
The work we will deliver within Our Green Stories will relate to six of the Sustainable Development Goals in particular, based on their strong relevance to our collections and work.
We also take inspiration from the commitments and guidance of Arts Council England. Their vital support enables arts, culture, and heritage organisations across the country to explore environmental issues and themes in their work. Indeed, championing sustainability is one of Arts Council England's core principles, and pertains not only to what we do but how we do it. Their leadership across the arts, culture and heritage sectors inspires us to consider sustainability in everything we do.
Together, we can not only be an exemplar in managing our carbon footprints and environmental impacts, but we can hold space, give agency, educate, and engage. The power of the cultural sector (of our voices) is unique, we are visible and heard, from hyper local to international platforms, by diverse communities and world leaders. By embodying the change and challenge of sustainable practices across everything we do, we collectively send a strong and unified message.

 

- Arts Council England
What we'll be doing
To begin the programme, we're currently undertaking consultation. Our goal is to understand how local people feel about environmental issues. How much does our community know about green issues and the environment, and do we feel able to make a difference? The insights we glean from this process will inspire our programming for the year ahead, both on-site and online, and we are excited to share more with you in the coming months.
At the same time, work is underway by our collections teams to identify stories, objects and archives that relate to sustainability, environment and the UN's Sustainable Development Goals within our collections. We are already sharing our findings on our blog—such as Wild about Reading: wildlife across our town and Leafing through Reading: identifying the trees of our town—with related programming in the October half term. And keep an eye out on The MERL blog for their first story before the end of this year, with a full programme of events and activities at both museums from January.
Our campaign will build on the successes of our two parent organisations–Reading Borough Council (Reading Museum) and the University of Reading (The MERL)–in engaging with climate-related issues. The University of Reading's Climate Stripes has attracted worldwide attention for its powerful visualisation of the climate emergency (even featuring as the cover of Greta Thunberg's latest book). Meanwhile, Reading Borough Council's work in reducing emissions has led to Reading's inclusion (as one of only ten UK local authorities) in the A list of the Carbon Disclosure Project, a charity that holds the world's most complete dataset of emissions.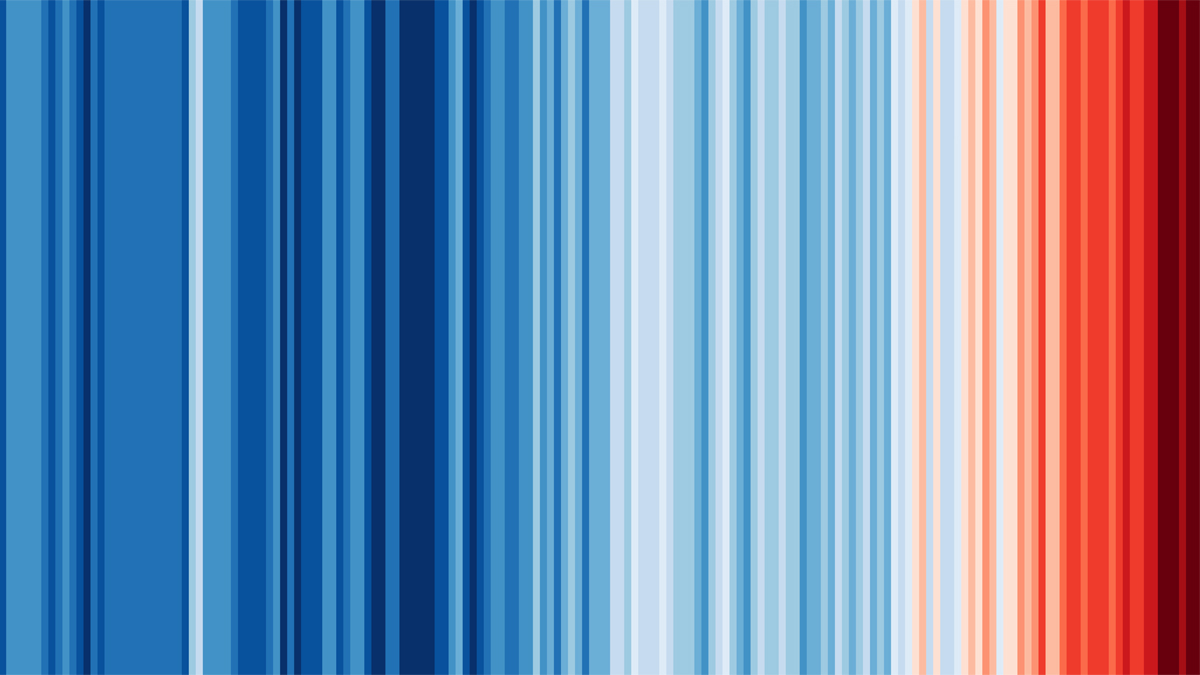 Ed Hawkins, Climate Stripes: Warming Stripes, Global, 2020, Digital, 2021, The University of Reading Art Collection, UAC/11018
We know it is easy to become overwhelmed when thinking about the future of the planet. We feel it even as we type this blog! So, in the months ahead and throughout the campaign we will focus as much as we can on solutions. We want to encourage you to make small but meaningful changes in your life, and we will amplify the voices of organisations raising awareness of sustainable action in our community.
Only collaboratively can we create effective solutions to complex problems. Throughout the year, we'll be looking to work with partner organisations in shaping and delivering this campaign, especially local to us here in Reading. If you'd like to take part and share the work your organisation is doing, please contact us today!
Find another version of this blog on The MERL website.