In 2019, Reading Museum was mobile! We packed up our bags with loan boxes, crafts and virtual reality equipment, so that we could share the history of Reading with people around the town!
Our team visited festivals, community groups and different organisations at sixteen venues across town, and we had so much fun meeting so many interested and interesting people (over 6400!).
Without further ado, here's a quick run-down of our favourite places that our museum-on-wheels visited in Reading. Hint: it's all of them!
Whitley Library
Our first visit of 2019 was to Whitley Library. We timed it well to slot in after a storytelling session. People came with their children to have a look at our collection of insects and make their own explorer hats. Back at the Museum, we were holding the Ladybird exhibition and lots of our participants mentioned they would be popping in to have a visit to the Museum! We loved making explorer hats and we could tell our visitors did too because the ones they made were absolutely cracking!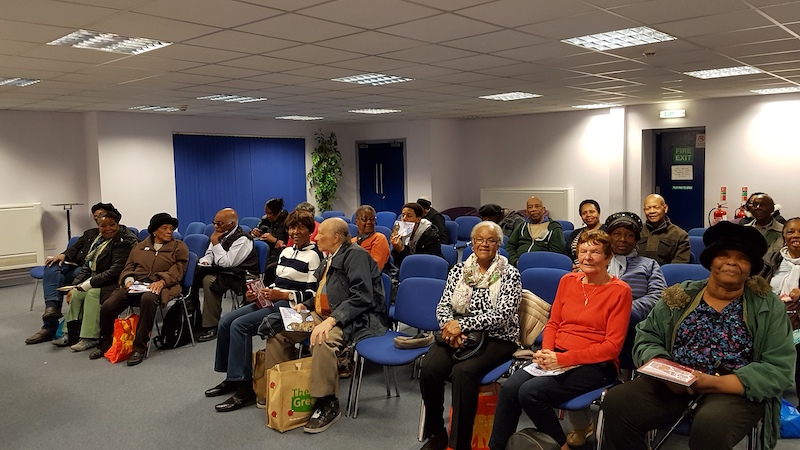 We really enjoyed our session with Globe Luncheon Club!
Globe Luncheon Club at the Deliverance Centre
This was such a lovely visit, with the members of the Globe Luncheon Club on Portman Road in West Reading. They really enjoyed our presentation and leapt at the chance to take further reading material, not just about the Reading Abbey but all different historical sites around Reading. One of the things we are very proud of are the leaflets that we put together about different parts of Reading, from Caversham to Whitley, through to West Reading and beyond.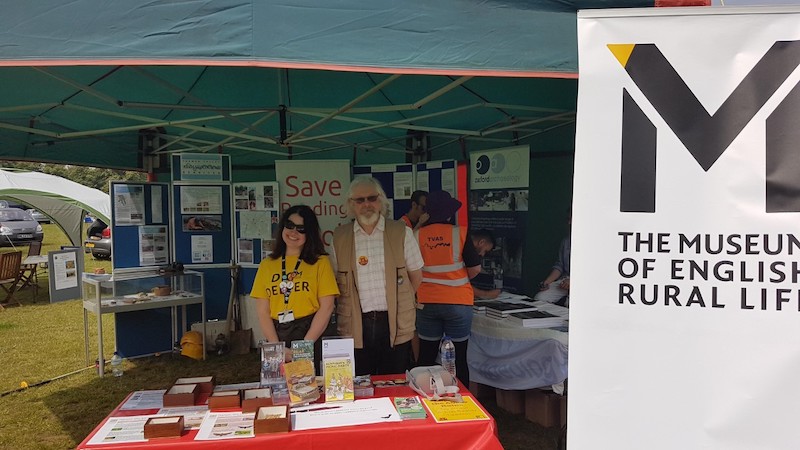 Museum on Wheels at East Reading Festival!
East Reading Festival
This was a great day at East Reading Festival, working with the Museum of English Rural Life and other fabulous heritage organisations like Berkshire Archaeological Society, Thames Valley Archaeological Services and Chilterns Area of Outstanding Natural Beauty. We formed a 'Heritage Quarter' in the festival with object handling, short talks, timeline tasks, sand pit archaeology and virtual reality. It was a lot of fun working together to share the delights of local history and heritage with visitors in Palmer Park. Fingers crossed that we're able to do it all again in 2021!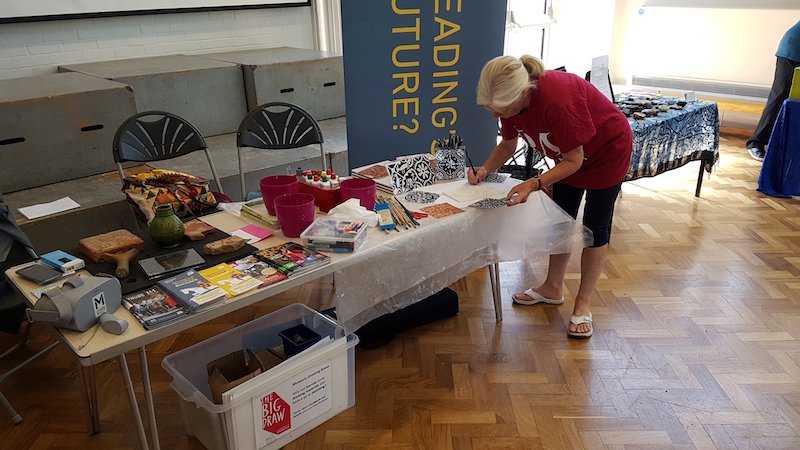 Museum on Wheels at Katesgrove Fayre!
Katesgrove Fayre
On one of the hottest days of 2019, we were very grateful to be indoors at Katesgrove Fayre! Lots of families came to visit, handling objects from Reading Abbey's past, having fun exploring the virtual Abbey, and painting beautiful ceramic tiles. We enjoyed the coffee and the camaraderie with the other stalls, including a lovely stall that gave us some tomato plants and a book about Reading's canals!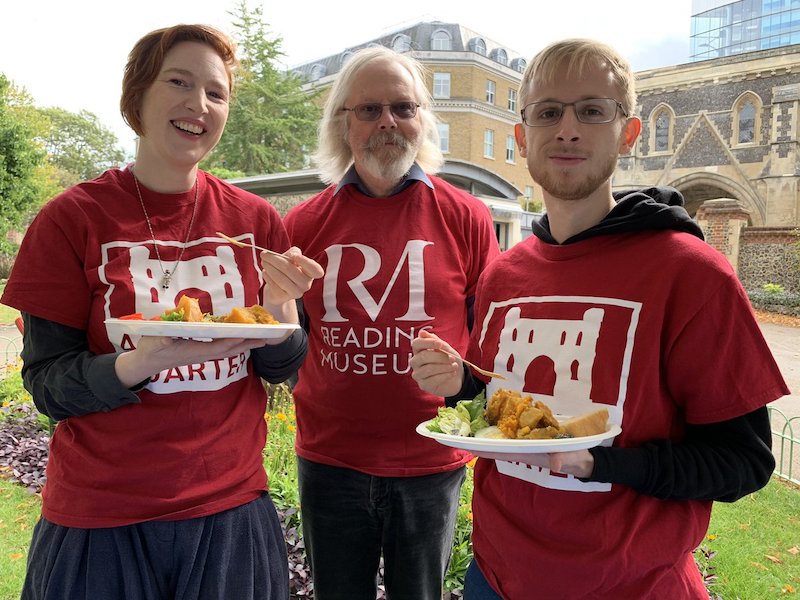 The Museum on Wheels team enjoying Reading Town Meal!
Reading Town Meal
Our volunteer team had a lovely time at the Reading Town Meal. We had the chance to work with The Museum of English Rural Life again, and this time we were able to share our collections exploring herbs, food and medicine in the past. The Abbey has a long history of helping the sick, where the monks used their knowledge of herbs and plants to create medicine! We akso had lots of visitors who really enjoyed decorating ceramic plates with patterns and plants to take home.
We had a fab time at the Weller Centre!
Weller Centre Jacket Potato Club
As you may have guessed, there were lots of delicious jacket potatoes here in Caversham (it was definitely a club we could get behind)! We had a wonderful time here sharing our Huntley and Palmer tins and talking to people about their experience of Reading's famous Biscuit Factory! A firm favourite was the tube travel tin; ideal for carrying an important supply of biscuits with you on your day-to-day travels.
Museum on Wheels with the Friday Friends!
Friday friends at St Catherine's Hall
We had a wonderful visit to Tilehurst when we went to talk about Huntley and Palmers. We met some former workers and learned what it was like to work in the office before the closure of Huntley and Palmer's biscuit factory in the 1970s. Apparently, they were strict but you got free broken biscuits: in our eyes, that sounds worth it!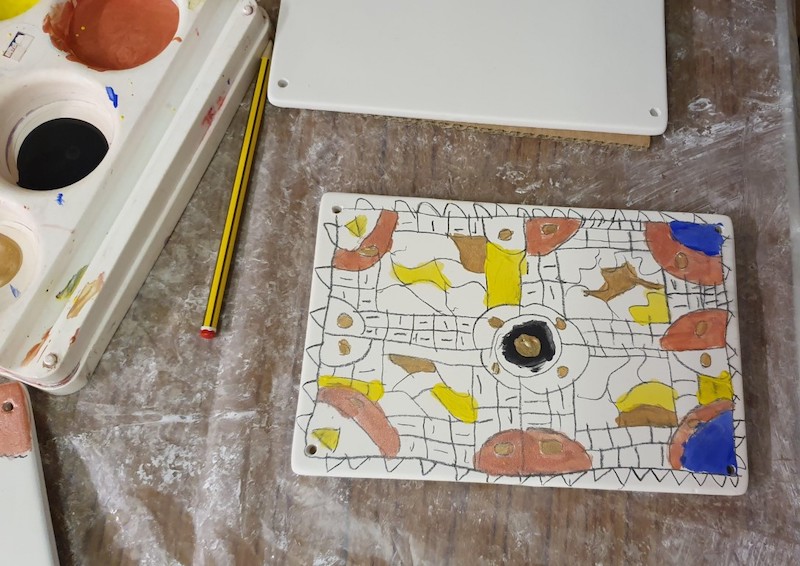 Making ceramic tiles is always fantastic fun!
Indian Community Centre
We were very lucky to be able to visit the Indian Community Centre twice, once in 2019 in December and again in January 2020, when we actually visited twice in one day! We actually visited twice in one day! We met some folks from the older people's group who told us all about how they came to England and what they liked about living here now. Then we hung out with the afterschool group later that day. We handled some objects from Reading Abbey and used virtual reality, but the best bit for this group was making some brilliant tiles with abbeys, castles and even princesses to decorate them with!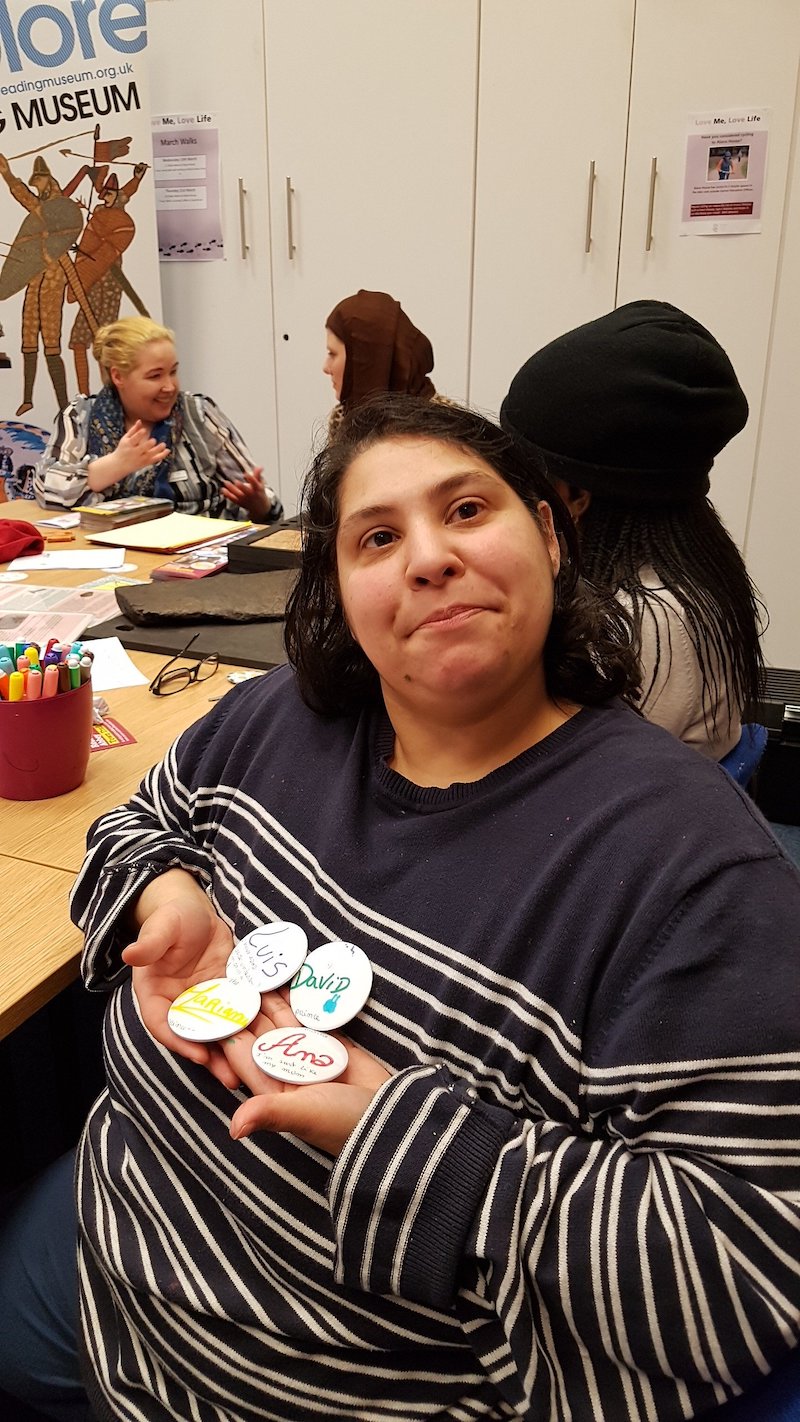 We had a wonderful visit to PACT making badges!
PACT (Parents and Children Together)
This session at PACT was fab! We visited a women's group here and explored the history of Abbey Ruins. Participants were really excited to learn about the history of a part of Reading located right on their doorstep! Everyone tried the virtual reality visit to the Abbey in its former glory. A particular highlight was the opportunity to look out across the Abbey from the top of the church tower! We also took out our badge maker and everyone got involved in making badges for themselves and to take back to their family.
The Future of Museum on Wheels
These were just a few of the places that we were able to visit in 2019 and we hope that next year we will be able to get out and about in Reading again, bringing a little bit of the Museum to share with you!
Thank you to the Earley Charity
We would like to thank the Earley Charity. Without their crucial support we would have been unable to take Museum on Wheels on the road!