Oh Beautiful World! is a new artwork produced by Eleanor Lakelin, celebrating the legacy of Oscar Wilde in Reading, where he was imprisoned from 1895 to 1897.
Installed in the Museum in December 2020, the sculpture has so far been unavailable for visitors to see due to our current closure.
This February half-term, we are thrilled to be sharing Oh Beautiful World! with you for the very first time through a range of new online content.
In this blog, our Art Curator Elaine Blake reflects on the story behind this astonishing piece.
'Oh beautiful world!'
When Oscar Wilde stepped out of Reading Gaol after his imprisonment in 1897, he famously declared: 'Oh, beautiful world!'
Quite how he spoke these words has not been recorded, but it is likely that he meant them both literally and ironically. It was the first time in two years that he had been beyond the Gaol's walls, but his distress and dissolution with humanity was clearly evidenced in his powerful poem, 'The Ballad of Reading Gaol'.
Almost 125 years after the end of Wilde's imprisonment, and just a fortnight before the first of the COVID-19 lockdowns began, we found ourselves returning to Wilde's legacy, when an avenue of chestnut trees outside Reading Gaol was felled. Like many horse chestnut trees in Britain, they had become diseased. Their roots, grown beneath the Gaol's walls, were a powerful symbol connecting Wilde's past with Reading today, and we were very keen to ensure that this legacy was preserved.
It was with that in mind that this commission began.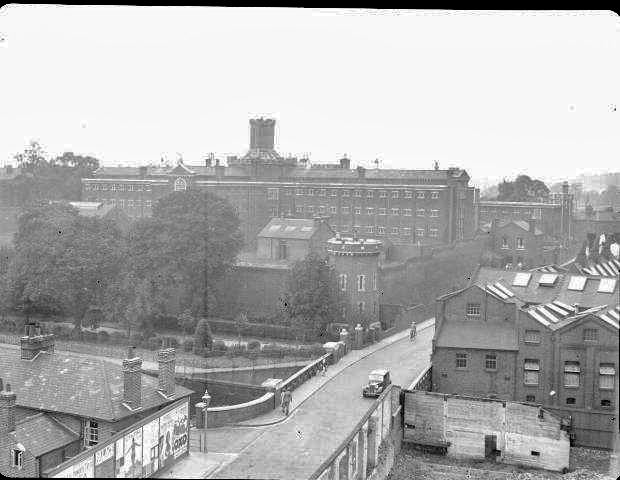 A view of Reading Gaol from Watlington Street, photographed in the 1930s, overlooking Blake's Cottages, Forbury Road, the Chestnut Walk, and the Kennet. REDMG : 1980.36.A88.3
The origins of the commission
Eleanor Lakelin makes beautiful sculptures by turning wood.
In late 2019, I visited Eleanor's studio in Deptford, London and was bowled over by a new piece of her work.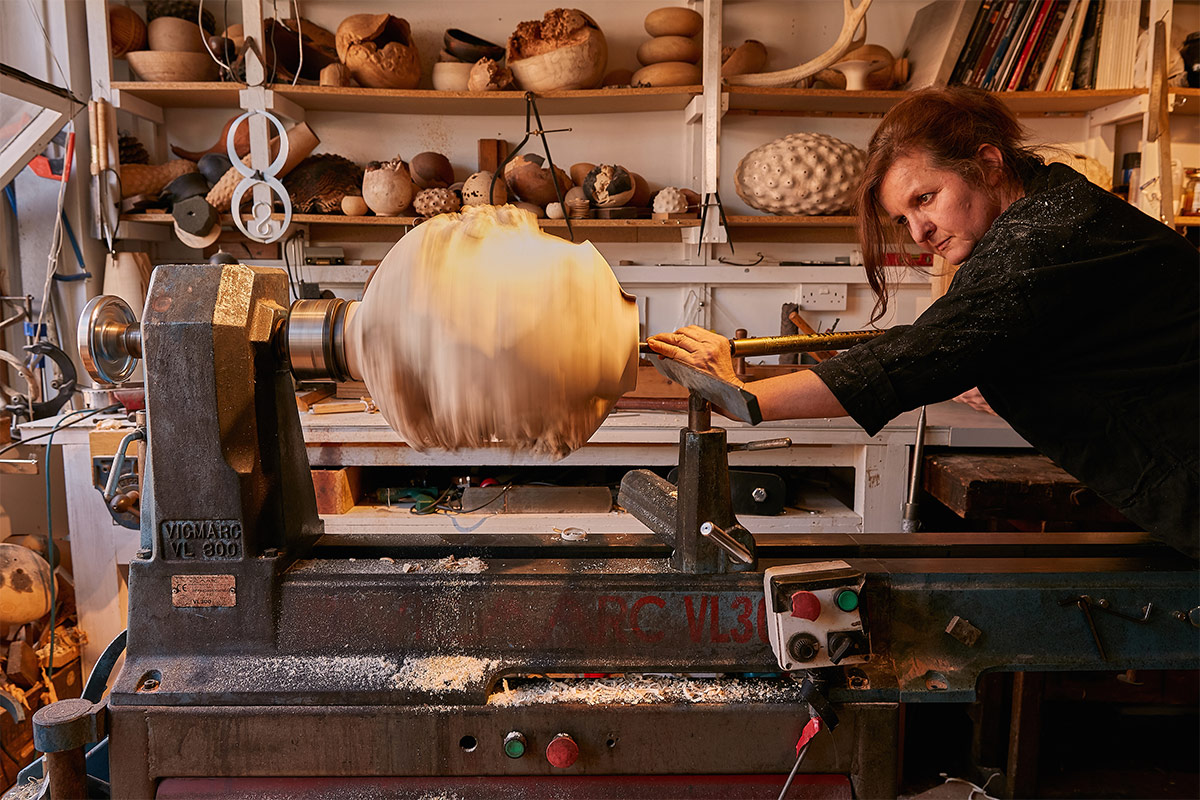 Eleanor at work in her studio. Photograph by Jeremy Johns
Most of Eleanor's sculpture was abstract, but this was in the form of a classical urn. It was pale, almost ceramic-looking (because that is the nature of the chestnut wood that she had used). However, because Eleanor had chosen to work in burr chestnut (that is, wood with a malformation, distorting the normally smooth timber), the classical outline was compromised, 'eaten into'.
It made me think of Oscar Wilde: Wilde, the classicist, the aesthete, the observer of Victorian mores who understood that Nature disrupts but also heals. Somehow it epitomised his complex understanding of beauty, humanity and art.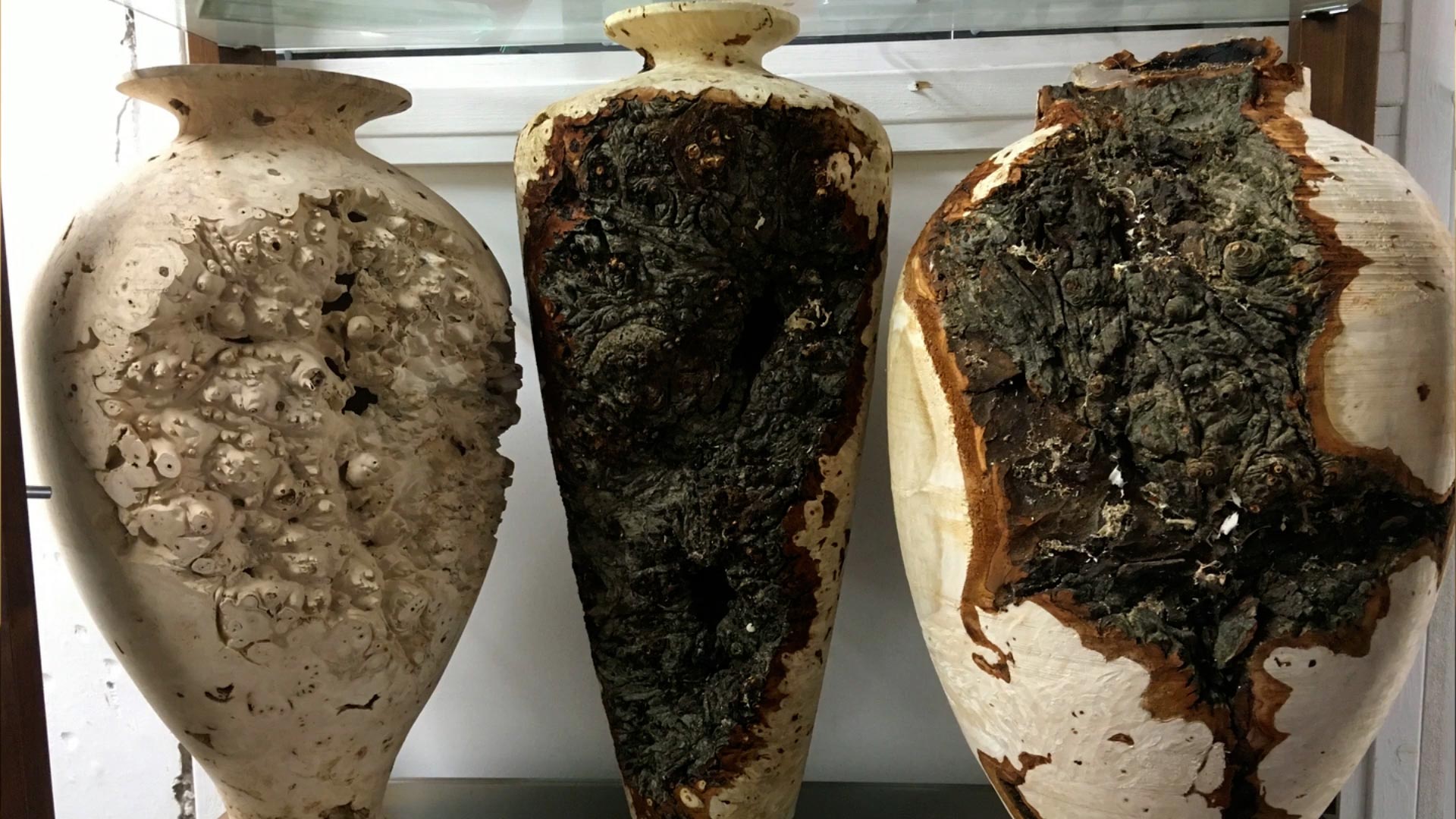 Three pieces made by Eleanor using burr wood.
Still thinking about my visit to Eleanor's studio, two weeks later I learned that the burr chestnuts at Reading Goal were to be felled.
I thought to myself: 'If Eleanor could find suitable sections of timber, could she respond to Wilde's declaration, "Oh beautiful world!" with a piece using the Reading Gaol wood?'
Just two days before the lockdowns started, the trees were felled, timber was selected by Eleanor, and just like that, Oh Beautiful World! was taking shape.
Help comes from the Contemporary Art Society and Reading Foundation for Art
Now Eleanor had the wood but there was not funding in place for her to use it. 
What made matters even more complex is that chestnut is a delicate wood, and begins to deteriorate after just six months. It needed to be worked on quickly.
Help soon came in May, when the Contemporary Art Society and Frieze London launched a Rapid Response Fund, aiming to keep artists working during the pandemic by helping museums to commission work. The commissions needed to embrace a sense of place and be relevant to the local community in which they would be displayed.
By this point in time, and as the lockdown continued, the idea of the Oh Beautiful World! commission was gaining further nuances. Horse chestnut trees are in danger of long-term decline due to new pests and diseases. The world seemed to have been turned upside down, and the piece would be made in uncertain times. It became clear to us that people encountering the sculpture in the future might well find resonances within it far beyond its historical links to Wilde.
We were thrilled when we learned that Reading Museum received the first of the Rapid Response Fund awards, and as quickly as possible, Eleanor's work was underway.
This was all with the invaluable support of Reading Foundation for Art, who have championed art in Reading since the 1970s, collecting work of national significance (and much with local connections) and tirelessly creating an artistic legacy that the town can be extremely proud of.
Relevance to Reading and beyond
Reading Gaol is an iconic building for LGBTQ+ people, because of the legacy of Wilde's incarceration. This was demonstrated powerfully by the exhibition developed by Artangel/Reading International in Reading Goal in 2016.
Some years earlier, the chestnut trees formed a vital part of an environmental installation: The Oscar Wilde Memorial Walk, created by artist Bruce Williams and poet Paul Muldoon in 2000.
In 2020, the loss of the chestnut trees, and uncertainty surrounding Reading Goal amidst campaigning by internationally significant arts and LGBTQ+ figures like Stephen Fry and Julian Barnes, was leading to concern locally about the need to preserve the history of this important space in the cultural memory of our town.
An artwork responding to Oscar Wilde's words, made from the Reading Goal trees, could represent the significant legacy of the prison and the Oscar Wilde Memorial Walk. It would also mark an extraordinary moment in the life of Reading, the country, and the world, as we wondered what sort of world we might find ourselves in after the end of the current pandemic.
The sculpture arrives
Ten months into the COVID-19 pandemic and few people have been able to see the sculpture Eleanor made. It has been at the Museum since December, but the Museum remains shut.
The sculpture is a triumph. Eleanor has taken the idea further than expected, and she has thought deeply about Wilde and his writings. The sculpture stands with the commanding presence of a tall man like Wilde. The surface includes carved passages that speak of bones and bodies and the break in the base suggests the theatrical swirl of a cloak. She has extended herself technically, using her furniture-making skills to create a three-part work which is about as big as can be managed on a lathe.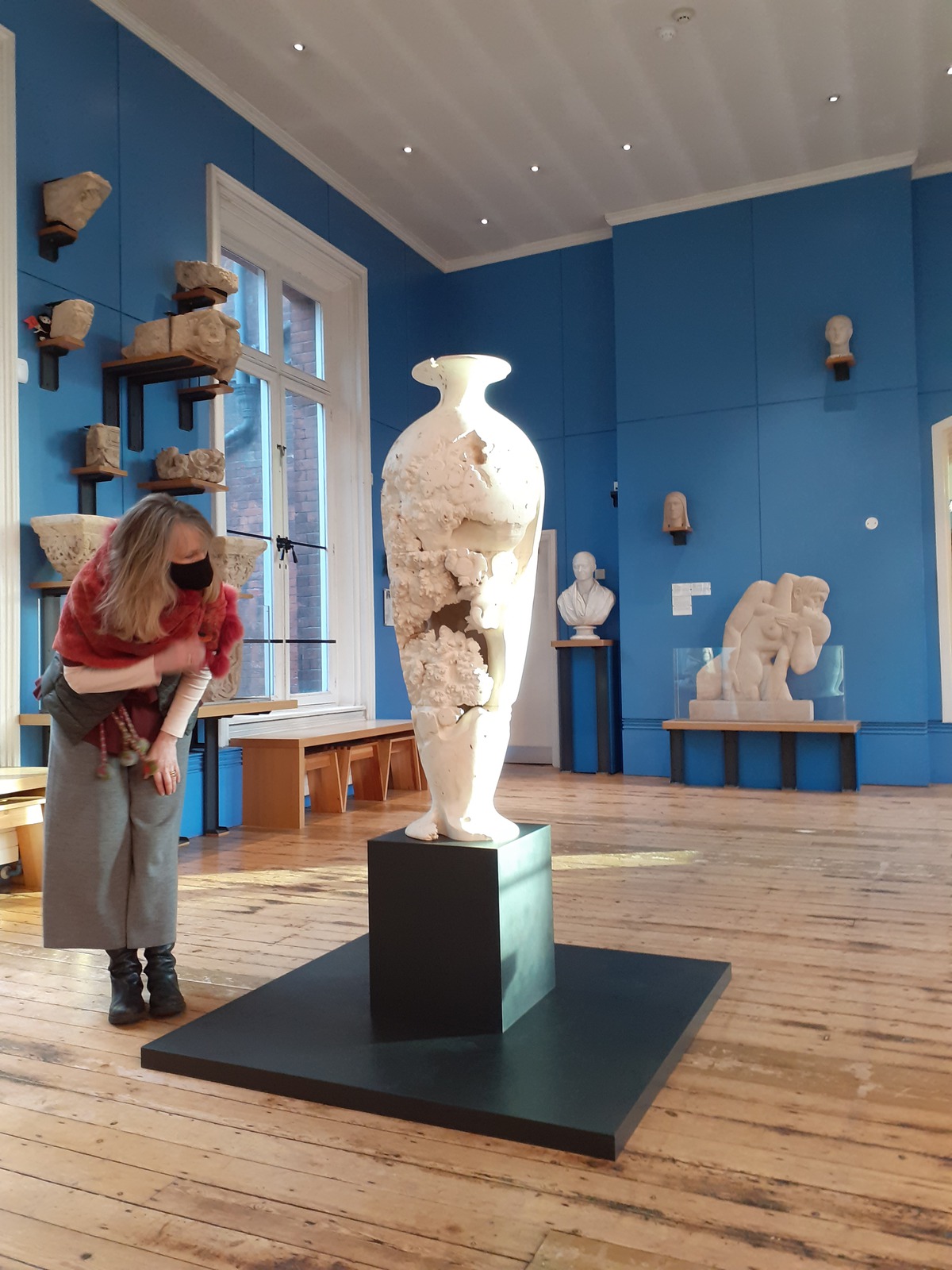 Councillor Karen Rowland views the sculpture up close after its installation in Reading Museum.
Discover Oh Beautiful World!
Although the Museum remains closed, this February half-term it is our pleasure to be able to share Eleanor's sculpture with you through our latest online exhibition, live from the 15th February, Oh Beautiful World!.
We invite you to join us in viewing the sculpture, exploring related arts and crafts, and even bringing it into your own beautiful world through a brand-new 3D model made with SketchFab.
Check back on Monday, as we will be publishing all of the content then!
Reading Museum's Contemporary Art Society membership is supported by Reading Foundation for Art, who continue to acquire work connected with Wilde today.
Find out more about the RFFA on their website.