Written by Anna Jones, Programme Manager of Museums Partnership Reading.
The first ever Reading Festival took place 50 years ago in 1971. Its incredible success and legacy continues to put Reading on the map for music-lovers across the globe. In this blog, learn about what the town of Reading was like in 1971, amidst political instability and economic hardship.
Welcome to 1971
Concerns about energy and food costs and supply. Clashes about the benefits—or otherwise—of the European Union. And a government elected on a manifesto to turn around the nation's fortunes that results in economic decline. Welcome to 1971.
One antidote we needed to all of this then is much the same as we need today: a collective vision of how arts, creativity and heritage can engage and inspire; a way to evoke community passion and pride; and an ambition for regeneration through place-making. Thankfully, the people of Reading are well-versed at giving us a cultural shot in the arm.
A time of change for Reading
In 1971, Reading's transition from its traditional manufacturing base (the three Bs of beer, bulbs and biscuits) to service and technological sectors was well underway.
The face of the town was transforming, with the arrival of new major infrastructure such as the Inner Distribution Road, the Civic, and shopping centres.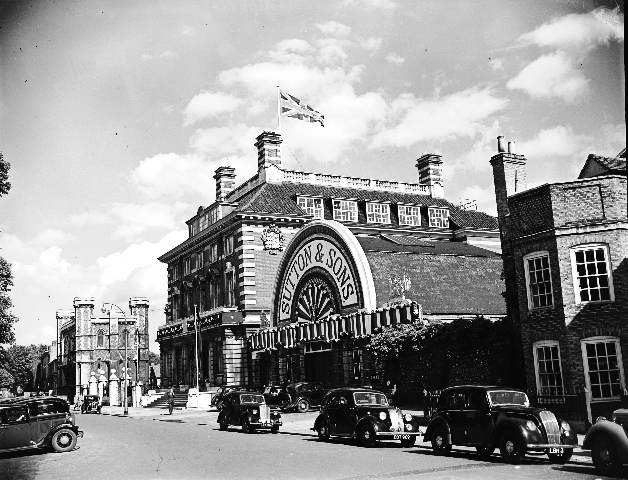 One of the three Bs of Reading—bulbs—was symbolised by Suttons Seeds. Founded in 1806, the company grew into a major international business, and continues trading today. (REDMG : 1980.36.B653.5b)
However, Reading Council and the Chamber of Commerce and Trade saw that there was more worth investing in than business. They recognised the need to develop the town's identity, and place Reading on the map. For this, culture was key.
The idea of a Festival of Reading was first mooted in early 1969. That summer, a tentative agreement was reached to proceed. If man can land on the moon, then surely we can manage a handful of events? the minutes may well have read. The green light was given, and the Festival of Reading was planned to take place across four weeks in 1971. The ambition was to hold a 'bumper gala of sport, commerce and music'. £10,000 was raised, and planning was assigned to Planned Public Relations.
'We are talking about the largest event of its type in the South of England,' Head of Tourism John Rose swaggered to the Reading Evening Post in March 1971. 'We are not talking about some kind of village hop'.
The first Reading Festival of Arts
London-based producer Harold Pendleton was approached by organisers to plan a month-long programme of events that, in 1971, would mark two significant anniversaries in Reading's history: the 850th year since the foundation of Reading Abbey in 1121, and 1100 years since 871AD, the earliest literary reference to Reading in descriptions of Viking raids in Bishop Asser's Life of King Alfred.
Pendleton's first staging of an open-air festival was the Beaulieu Jazz Festival for Lord Montague in 1956 and he later pioneered the first National Jazz festival at Richmond in 1961. He mixed these experiences with his knowledge of the late sixties and early seventies music scene to make Reading's vision a reality.
Reading Festival of Arts opened on 12th June 1971 with a procession of sixty decorated floats, including a horse-drawn fire engine, parading through the town centre. It ran until mid-July with over 150 events planned over the following four weeks. Around 20,000 people attended what was perhaps the most controversial event of the Festival: a three day event over the Caversham Bridge in Richfield Avenue, staged by Pendleton with his Marquee Club organisation.
Locally referred to as the 'Pop Festival', it provoked some vexed residents and incensed politicians to make their minds up in advance and express their misgivings in the Reading press. One paper sent a reporter to file back what had occurred, who said that 'it wasn't until I bought a newspaper on the way home that I realised I had been participating in a mad orgy of sex, naked ladies and drugs'.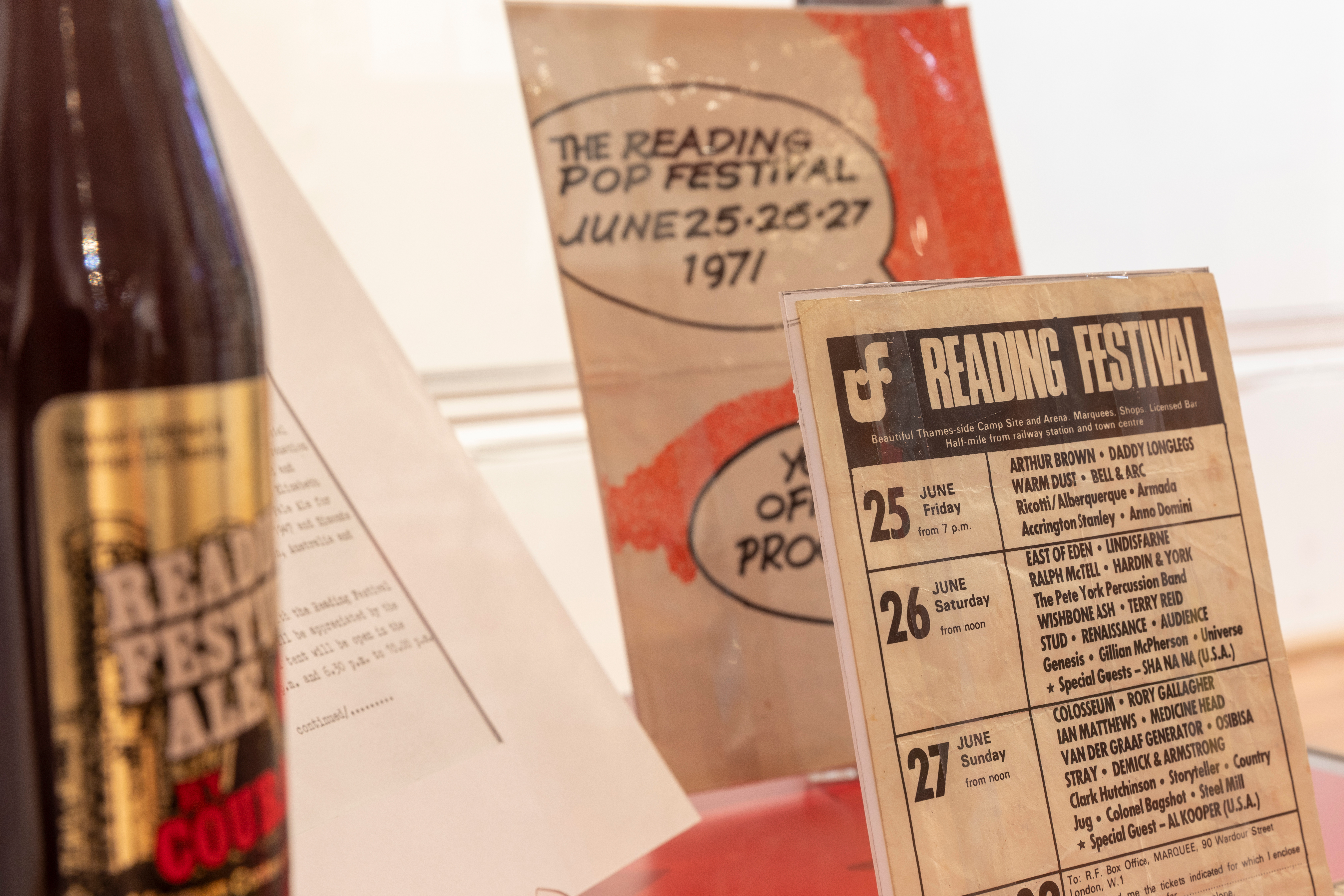 This flyer was part of the promotional offer for the very first Reading Festival. How many of these acts do you recognise? (REDMG : 2011.623.2)
Fortunately, the detractors have diminished and today, Reading Festival brings over 110,000 revellers to town each year (clothed or otherwise).
And just as Reading Abbey once placed Reading on an international stage and increased the town's prosperity, Reading Festival has put the town on the map, making us a well-known location across the world with a global television audience tuning in in their millions. Generations of young people, and the young at heart, have made this very different form of pilgrimage over the course of many musical years.
With a jazz heritage dating right back to the 1950s, Reading Festival at 50 can lay claim to be the UK's longest-running popular music festival. And whilst all those years have passed, as in 1971, we still need a cultural antidote today to elevate us from the gloom, grey and grind to a higher life of groove, glitz and guitars. If only for a weekend.
A creative future
Reading has never just been about a three-dayer. There is much to do long after the tents and teenagers have gone from Richfield Avenue. Large scale event venues, concert halls, studio spaces for visual art and theatre, independent cinemas and a plethora of other festivals, fun days and fetes celebrating arts, music, leisure, and community. Not to mention some pretty fine museums. No wonder Reading was voted the best place to be a young adult on factors including wellbeing and nightlife.
Never content with standing still, the aforementioned collective creative vision, community passion, and pride that imagined and realised Reading Festival all those moons ago now looks forward to securing Reading Gaol as a centre for arts, culture and heritage. Street artist extraordinaire Banksy gave the campaign a profile boost last year, and has subsequently pledged the proceeds from the sale of the stencil to the people of Reading to purchase and transform the Gaol.
Discover the story of the first Reading Festival
So, skip and jump to today and Reading Festival has just celebrated half a century of rocking residents and revellers. 'The 1971 READING FESTIVAL: For the First Time' at Reading Museum until 15th January charts this story. Fittingly launched in August 2021, coinciding with the most recent festival, the exhibition recounts the sounds of the very first festival, through rare and unseen photographs, posters, ephemera, and unique items of rock memorabilia.
The exhibition takes its title from Rory Gallagher's 1971 song, 'For the Last Time'. For many, Gallagher was one of the greatest stars of the first Reading Festival. Through the generous support of the family of this timeless artist, items of Rory's musical equipment and from his personal archive feature in the exhibition, presented for the very first time in a UK public museum.
The exhibition was curated by legendary rock photographer Jill Furmanovsky, responsible for some of the most enduring images in popular music history, who—with her Rock Archive team—has brought lost and hidden imagery of the first festival to light.
The exhibition is narrated by Record Collector magazine's Ian Shirley. With his specialist knowledge of the history of pop music, Ian has delved into the archives and tracked down producers, musicians and fans to share an enlivening account of the first festival.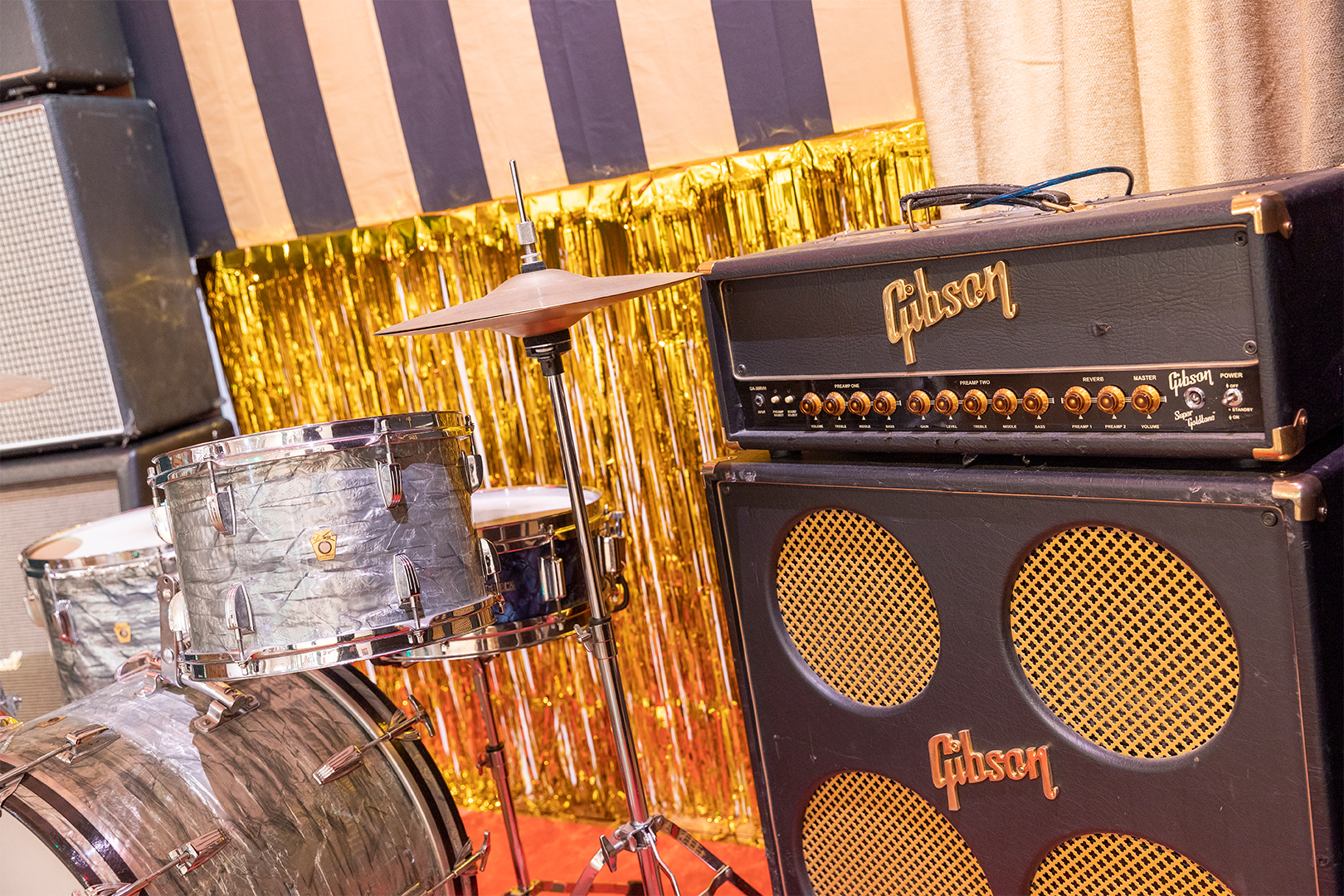 In our 1971 Reading Festival exhibition, this setup recreates a stage from the first festival, and features the guitars, amplifiers and equipment that would have been used to create the iconic festival sound.
As we look to the next five, ten, fifty years, we are intent on reaching out to young people for their voices to influence and inform the town's cultural offer and future. The development of the exhibition was complemented with a participatory programme of work with local music charity, The Rock Academy, who worked with Museums Partnership Reading Youth Panel to curate part of the exhibition. Using Reading Museum's collections as inspiration, they explored iconic festivals since 1971.
In working with young people now, we can ensure that cultural life here stays meaningful, relevant and that, come 2071, Reading still rocks.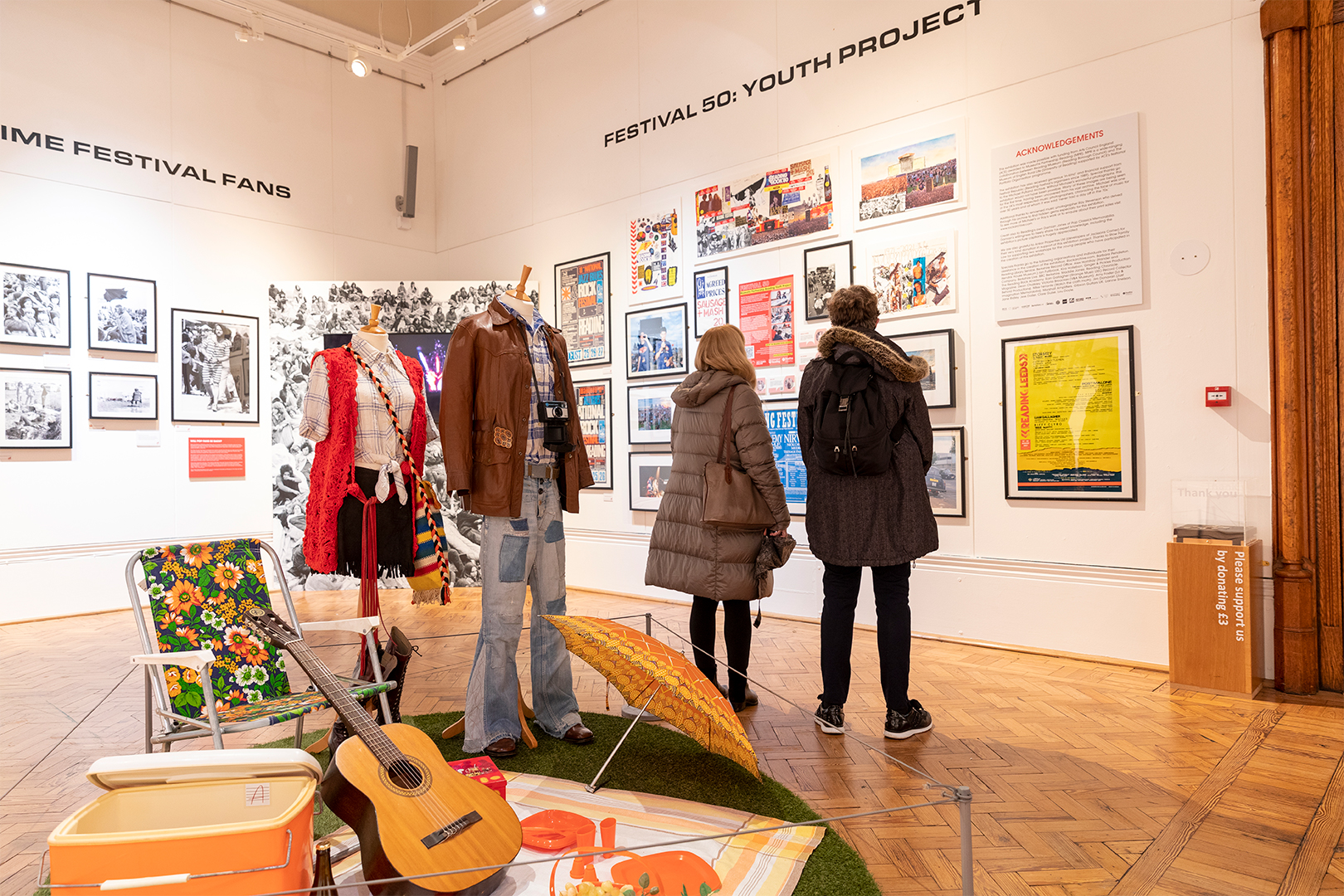 All of the young people's incredible work can be viewed both in the exhibition and online.
Museums Partnership Reading
'The 1971 READING FESTIVAL: For the First Time' is presented by Museums Partnership Reading, a collaborative, wide ranging programme of activities by Reading Museum and The Museum of English Rural Life. It is made possible by the Arts Council England's National Portfolio Organisation programme and with generous support from Festival Republic.
Reading Museum (Reading Borough Council) and The Museum of English Rural Life (University of Reading) work together as Museums Partnership Reading (MPR). MPR is funded by Arts Council England's (ACE) through their National Portfolio Organisations, to improve opportunities for diverse local communities to engage in cultural experiences and heritage through public programmes, high-quality learning opportunities, online experiences, and investment in volunteering.