In early September 2023 Reading celebrated its eighteenth Pride Parade. Thousands of people marched through the town, gathering at Kings Meadow to celebrate lesbian, gay, bisexual, transgender and associated communities (collectively known as 'LGBTQ+') within Reading and the Thames Valley.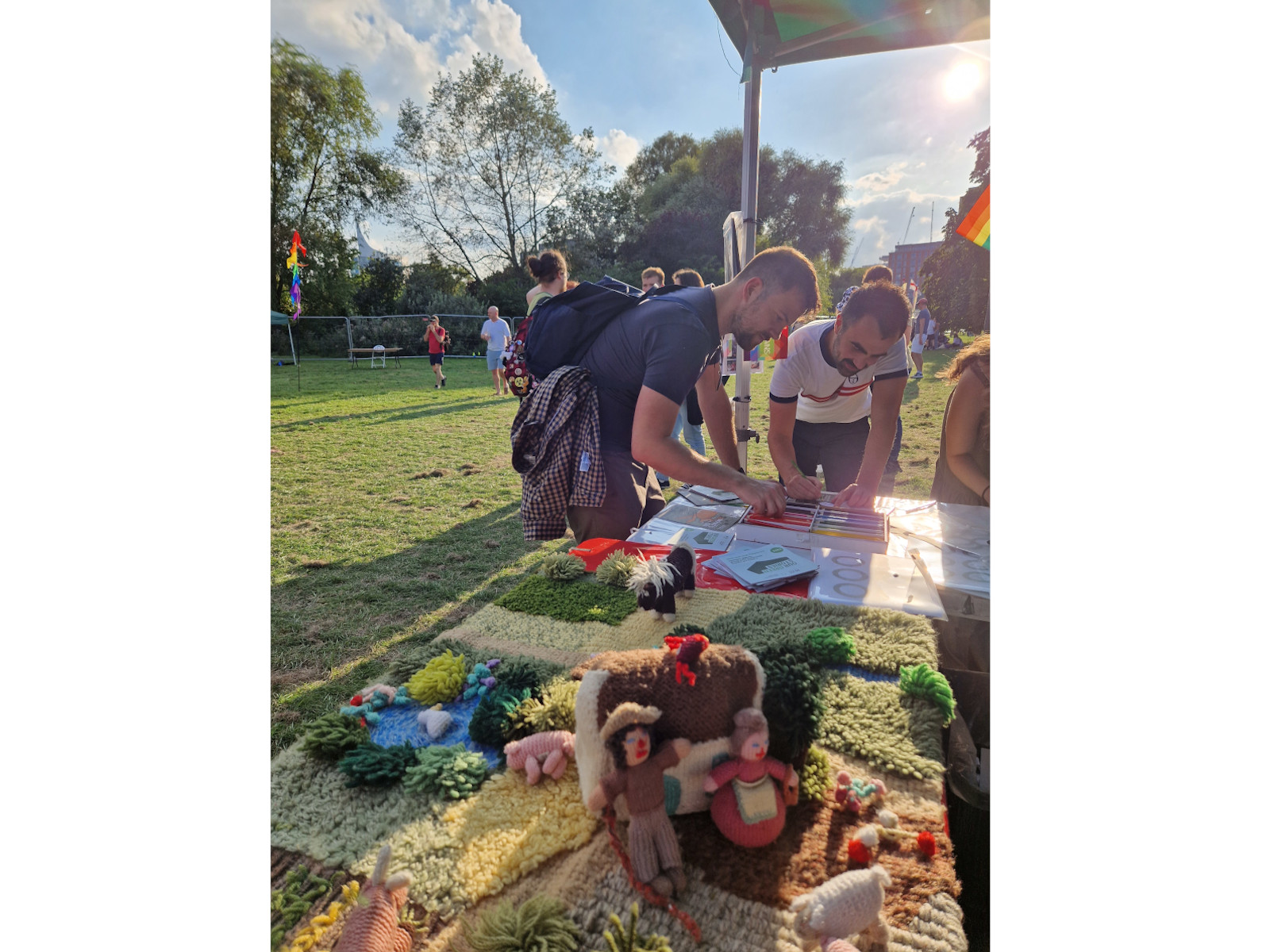 Members of the community enjoying our Museum on Wheels in the summer sun at Pride
Among them were members of our amazing team - we took our show on the road and joined in the celebration, holding our final "Museum on Wheels" of the season at Reading Pride. Staff and volunteers showed up to support our local LGBTQ+ community (welcoming just under 400 people to the stand) and to spread the word about our fabulous museum collections (our colourful knitted farm crafted by Jan Messant was a big hit!). Museum on Wheels is a collection-sharing roadshow made possible by Museums Partnership Reading funding from Arts Council England.  You can find out more about how to get involved here.
Back in the museum, we are very excited to share a recently accessioned piece of art created by Dan Vo, a leading figure in the LGBTQ+ museum world and a trustee of Queer Britain, the first LGBTQ+ museum in the UK. In 2020, Dan visited Reading to give a LGBTQ+ history tour around the town and the museum, revealing a fascinating history to be proud of.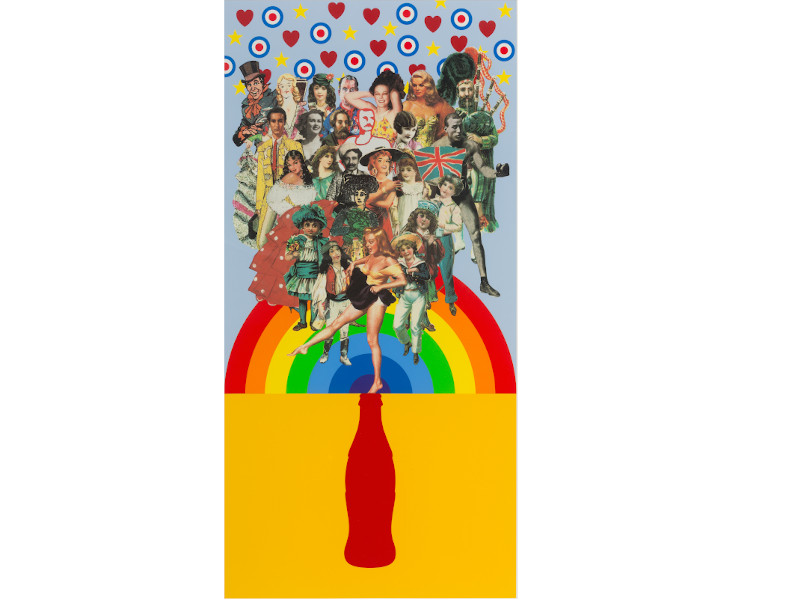 Summer Days by Sir Peter Blake, museum number 2008.413.1
Summer Days…
While he was visiting the museum, Dan was shown behind the scenes of the art collection and one piece in particular caught his eye. This was the superb 'Summer Days' silkscreen print, part of the Reading Foundation for Art Collection. The artist is Sir Peter Blake, one of Britain's most loved pop artists. In 2007, Blake was asked by Coke to create an original piece of artwork to celebrate 75 years of the iconic Coke bottle design. He produced a live piece of art over 20 feet tall at London's South Bank, and the Summer Days silkscreen was published afterwards.
However, there is more to the print than meets the eye. Not only was 2007 Coke's 75th anniversary, it was also the year that Blake himself turned 75. More than anything, this print can be seen as a celebration of his own life and work: all the motifs in the print, including coke bottles, and all the collaged images had featured in Blake's previous art. In fact, the only image which was not used in one of his previous pieces is a portrait of the artist himself, visible in the middle of the top row. This was done by David Hockney, one of the most influential gay artists of the twentieth century.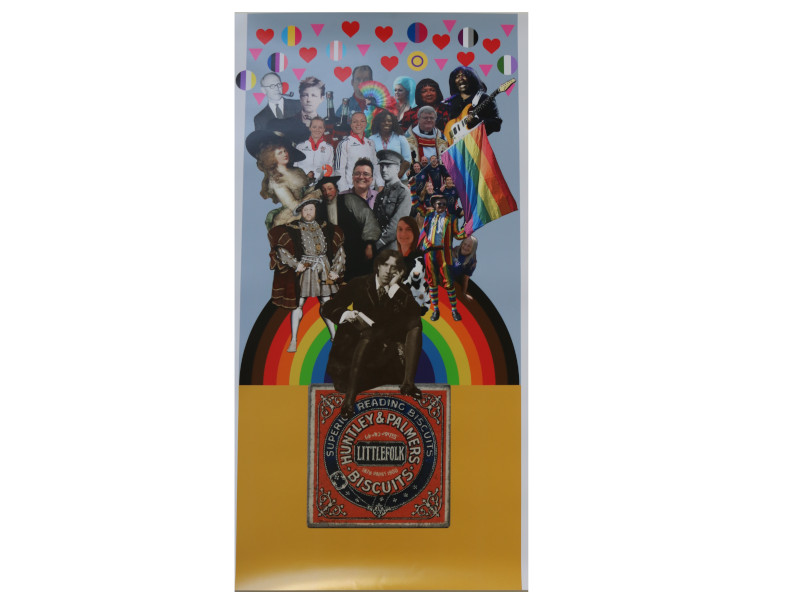 Summer Days and Reading Gays by Dan Vo, museum number 2023.68.1
...and Reading Gays
The vibrant piece of pop art inspired Dan so much that he created his own in response - 'Summer Days and Reading Gays' - which he generously gifted to Reading Museum and is now part of our collection. The poster shows a collection of iconic figures relating to LGBTQ+ life and history in Reading bursting from a Huntley & Palmers biscuit tin, with the progress rainbow behind them and various pride flags above.
The connection between LGBTQ+ history and Huntley & Palmers may not be obvious at first. At one time, the company were the largest biscuit manufacturer in the world and played a key part in Reading's development – thanks to them, Reading became known as the 'biscuit town.' They also have an unexpected place in LGBTQ+ history. In the 1950s a committee was set up by the government to investigate laws on homosexuality and prostitution, known as the Wolfenden Committee as it was chaired by Sir John Wolfenden, then chancellor of Reading University. Wolfenden makes an appearance in this poster as well – you can see him and his pipe in the top left-hand corner. The committee used 'huntleys' and 'palmers' as codewords referring to homosexuals and prostitutes whilst they were carrying out their investigation. This decision was apparently taken out of concern for the sensibilities of female secretaries working with the committee!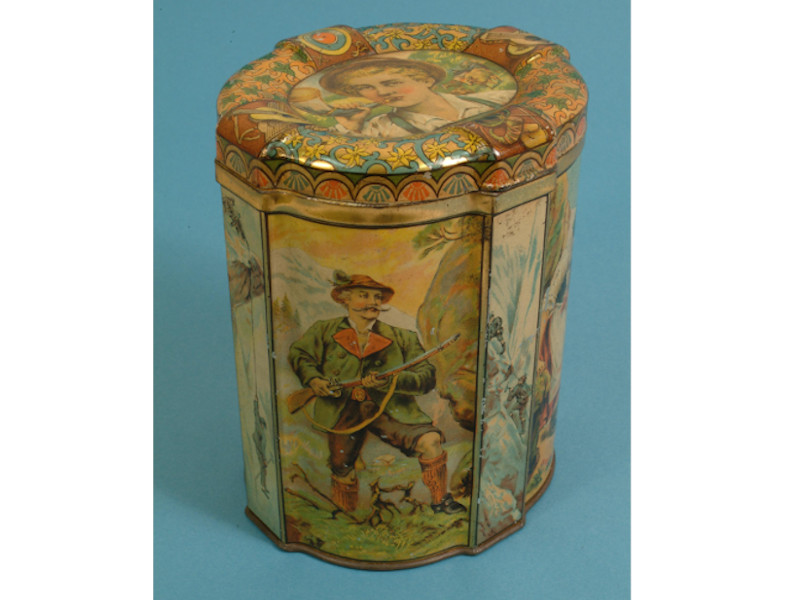 Huntley and Palmers Alpine Tin, 1895, museum number 1992.2.70
Dan's poster shows a treasure trove of Reading's LGBTQ+ icons – both past and present. There are historical figures such as Arthur Rimbaud, a French poet who briefly lived in Reading and whose open stance on homosexuality and stormy love affairs with men shocked society. Another is perhaps the best-known British poet of the First World War, Wilfred Owen, whose poems and letters to fellow poet Siegfried Sassoon reveal a depth of homoerotic passion and intimacy.
When Owen was a young man, his uncle lived in Kidmore End and Owen's letters to his mother gave details about his holidays there – in one of them we even get a shout out! He mentions visiting Reading Museum with his cousin Leslie:
Went to the museum and (joy of joys) we were shown all over Roman Remains from Silchester by Assistant Curator. Explained everything - what a morning! And what a Museum even to Shrewsbury's!!

Wilfred Owen

- 31 December 1909
The most well-known figure featured is perhaps Oscar Wilde, a 19th century Irish playwright and poet who was convicted of "gross indecency" in 1895 after his relationships with men, including Lord Alfred Douglas, were exposed. He was sentenced to two years hard labour and incarcerated in Reading Gaol, during which time he wrote De Profundis, an extended letter to his previous lover charting the rise and fall of their relationship. After his release he published The Ballad of Reading Gaol recounting his time there. The poem was originally published under the name C3.3.3, which was Wilde's cell number in the prison.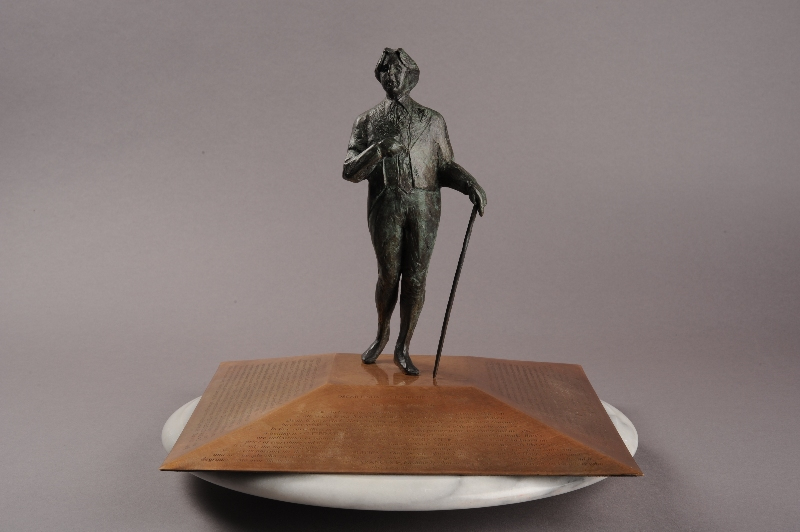 A Statue for Oscar Wilde, 2010, by William Pye. Museum number 2010.81.1
What makes this art really special is the fact that it also celebrates figures in Reading's vibrant LGBTQ+ community today. The collage features members of Support U, an LGBTQ+ help service that has been supporting the local community since 2012; their co-founder and CEO Lorna McArdle; Kirsten Bayes, former Councillor and a trustee of Reading Pride; and pioneering gay clergyman Jeffrey John.
In the future we hope to display Summer Days and Reading Gays in the Museum Welcome Gallery, proudly showcasing our town's history. In the meantime, make sure to check out our series of pride month posts on our Twitter (now known as X), Facebook or Instagram pages for more insight into some LGBTQ+ objects from the collections and more details on some of the figures mentioned in this blog.