Museums on Wheels is our hands-on outreach programme that takes Reading Museum and The MERL on the road to events across Reading's communities. Made possible thanks to the Museums Partnership Reading funding from Arts Council England, Museums on Wheels brings the museums to you in a collection-sharing roadshow, offering hands-on opportunities and activities. The content of Museums on Wheels is adapted to connect with the themes of events, offering sometimes surprising and inspiring insights into our collections and community connections.
This scheme grew out of our Abbey on Wheels project in 2018, which was part of our work on the conservation and interpretation of Reading Abbey.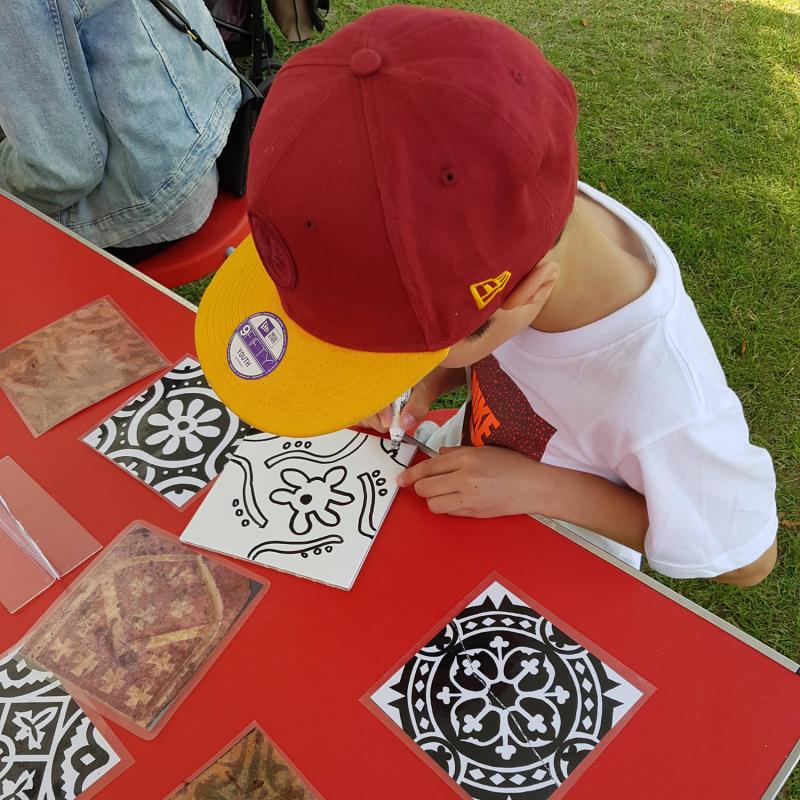 Painting tiles
Public Events for 2023
In 2023, we are excited that our Museums on Wheels are rolling out to:
Community Festival, Saturday 13th May 2023 – University of Reading
WaterFest 10th June 2023 – 11 am – 5 pm, Forbury Gardens, Reading Avvey Ruins, Chestnut Walk and Riverside Walk
Whitley Parade 2023 11th June 2023
East Reading Festival, Sunday 25th June 2023 – Palmer Park, 1 pm – 7 pm
Pride, Saturday, 2nd September, King's Meadow
Are you holding a community event in 2023?
Do you know of an event or venue where we can spread the word about Reading Abbey, Reading Museum and The Museum of English Rural Life (The MERL)? This is a community project so we would love to hear your suggestions! Please drop us a line using our enquiry form to discuss your idea further.
Talks and Outreach Visits
We also offer talks, handling presentations and outreach visits during museum open hours, Monday - Saturday 10am-4pm.
We charge for these events to cover the cost of staff, resources and transport. 
Please use our enquiry form for more information.