Until 26 August 2023
Venue: Sir John Madejski Art Gallery Reading Museum
Big, bold and colourful, the Abstract Art exhibition is a joyful display of paintings and sculptures from the Reading Museum collection.
Now with new music inspired by the artworks. For more see https://www.peterdoylemusic.com/abstractartproject 
Abstract art is about much more than imitating the world as we see it and it can be many different things. It can be an exploration of notions that all artists think about like colour, shape, space, composition, or materials. It can be an expression of emotion. It can seduce or repel us with optical effects, and it can be the result of experiment, chance, even accident. Often it demands our attention and always it repays our investigation.
The exhibition includes works by great abstract artists like Terry Frost, Steven Buckley, Prunella Clough and Barbara Rae, with examples of related ceramics and weavings.
Main image - Trinity I (detail) by Albert Irvin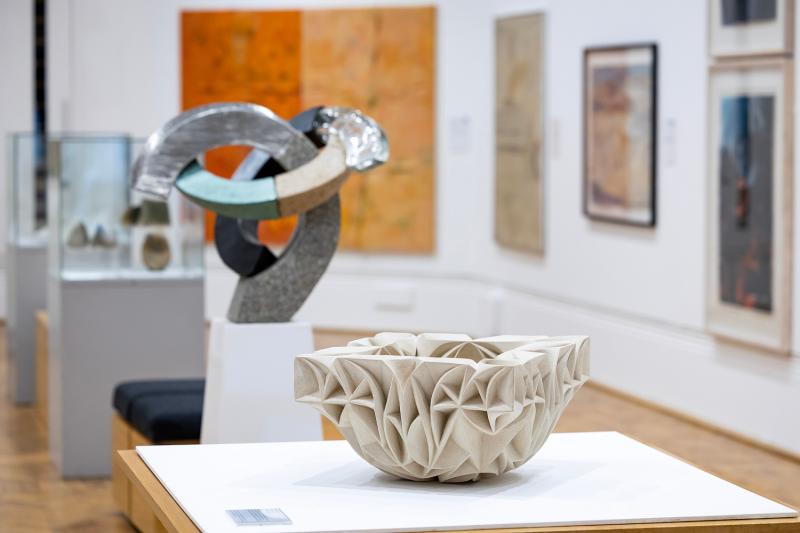 Abstract Art for all exhibition including contemporary commission by Halima Cassell responding to the Romanesque sculpture from Reading Abbey
Art in the Dark – Jan to April 2023
Back by public demand, this year's Art in the Dark Months programme celebrates all things abstract at a time of year when colour and creativity can light up everyone's lives. Most activities are for adults, including beginners, and some are for all ages. Explore the list of events below and head to the What's On pages to book.
INTRODUCTION TO ISLAMIC DESIGN: PRACTICAL WORKSHOP WITH ARTIST, HADIL TAMIM
Saturday 21 January, 10.30am – 3.30pm, free, book online, adults
SONGLINES: CREATIVE WORKSHOP WITH ARTIST LISAMARIE GIBBS
Saturday 28 January, 11am – 3.30pm, £55 per person, book online, adults
EXPLORING SPACE IN ABSTRACTION: CREATIVE WORKSHOP WITH ARTIST ROBERT FITZMAURICE
Saturday 4 February, 10.30am – 4pm, £55 per person, book online, adults
ABSTRACT TEXTILES, FASHIONABLE INTERIORS: HANDLING SESSION, BEHIND THE SCENES
Monday 6 February, 10.30am – 12.30pm or 1.30pm – 3.30pm, £12 per person, book online, adults
TRY CIRCLE APPLIQUE: PRACTICAL SEWING WORKSHOP
Tuesday 21 February, 10.30am – 12.30pm or 1.30pm – 3.30pm, £5 per person, book online, adults
INTRODUCTION TO ISLAMIC DESIGN: PRACTICAL WORKSHOP WITH ARTIST, HADIL TAMIM (REPEAT)
Saturday 25 February, 10.30am – 3.30pm, free, book online, adults
SCULPTING A RESPONSE TO THE ABBEY STONES: PRESENTATION BY ARTIST, HALIMA CASSELL
Saturday 11 March, 3pm – 4pm, free, book online, all ages
CELEBRATING BISHOPSLAND SILVERSMITHS: DEMONSTRATIONS AND DISPLAYS
Saturday 25 March, 11am – 4pm, free, drop in, all ages
COLOUR, SPACE, SHAPE, FRAME, MOOD: CREATIVE WRITING WORKSHOP WITH POET, LESLEY SAUNDERS
Saturday 25 March, 11am – 3.30pm, £12 per person, book online, adults