17 May 2021 to 7 August 2021
Venue: Sir John Madejski Art Gallery Reading Museum
Rubens to Sickert: The Study of Drawing explores how we learn to draw, and the lessons that drawing teaches. It is linked to Reading Museum and the University of Reading's joint history as home to an important regional art school, and explores the rich, wider history of drawing in modern British art schools.
Alongside key loans and works from Reading Museum, it highlights the 65 master drawings held at the University of Reading Art Collection by artists including James McNeill Whistler, Giovanni Baglione, Peter Paul Rubens, Walter Richard Sickert, Gwen John, Rita Donagh, and many more. These were collected by James Anthony Betts, the first Professor of Fine Art at the University of Reading. He is the figure that appears in the exhibition's logo. 
The exhibition can be viewed in the Sir John Madejski Gallery at Reading Museum, or online at the University of Reading Art Collections' website.
Discover the exhibition programme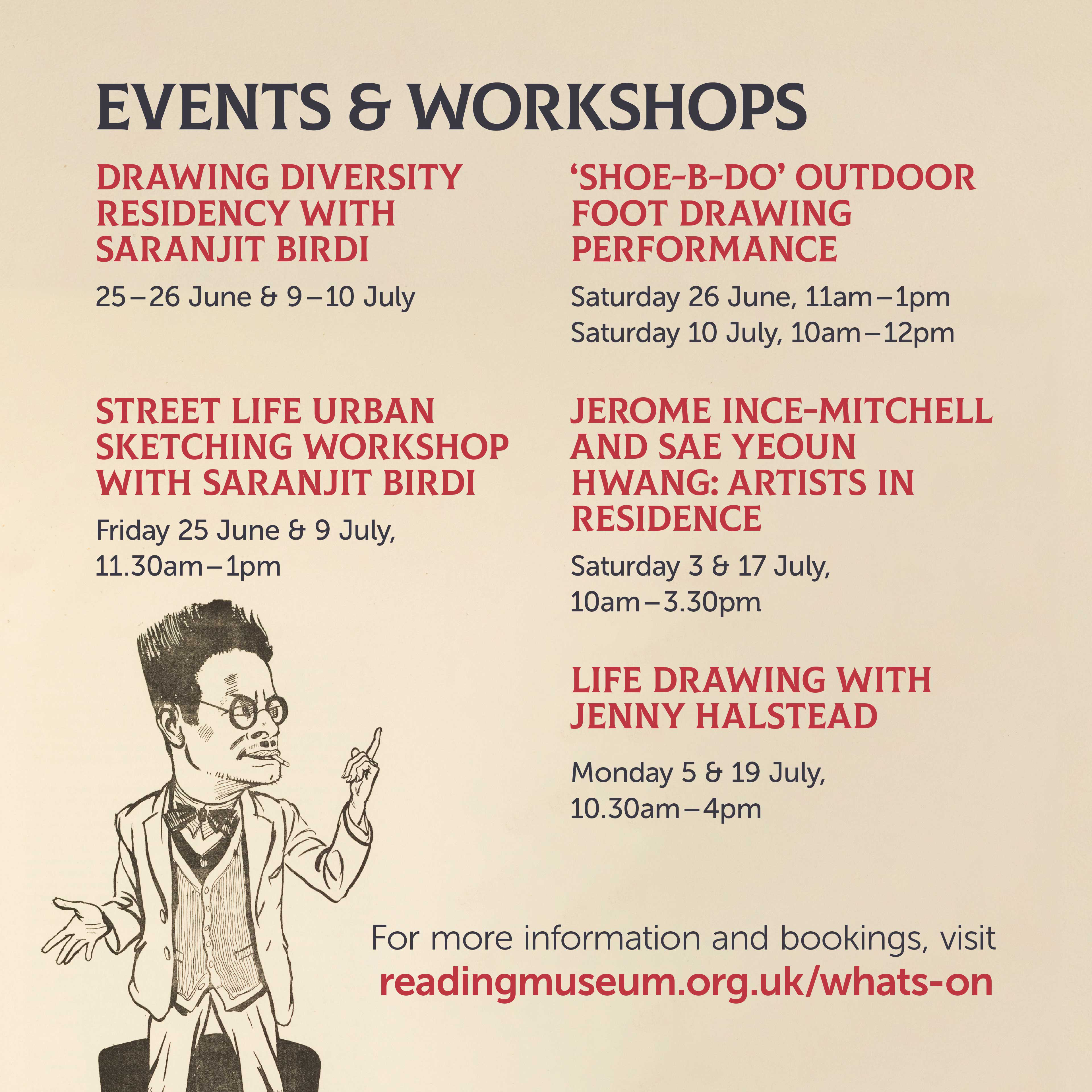 Throughout June and July, there are lots of bookable events taking place at Reading Museum as part of the Rubens to Sickert exhibition programme. All of these are free other than the life drawing workshops. Explore them all below!
Drawing Diversity Residency with Saranjit Bardi
On Friday 25 and Saturday 26 June, and Friday 9 and Saturday 10 July, join Saranjit Bardi, artist-in-resident for our Drawing Diversity programme, as he works live at the museum!
Shoe-B-Do
On Saturday 26 June and Saturday 10 July, watch or take part as Saranjit creates a foot drawing outside the museum and Town Hall!
Street Life: Urban Sketching Workshop with Saranjit Bardi
Book your free place on our sketching workshop led by Saranjit Bardi, focusing on observational sketches of people in spaces around the museum.
Jerome. and Sae Yeoun: Artists in Residence
On Saturday 3 July and Saturday 17 July, join our artists-in-residence, the emerging duo Jerome. and Sae Yeoun Hwang, in the Sir John Madejski gallery, as they set up in our in-built studio to start conversations through drawing.
Life Drawing with Jenny Halstead
On Monday 5 July and Monday 19 July, book onto our life drawing workshops led by local artist Jenny Halstead. Please note: this workshop involves nude modelling.
This exhibition was made possible with a grant from the Weston Loan Programme with Art Fund and funding from Arts Council England awarded to Museums Partnership Reading via their National Portfolio Organisation programme.