This gallery features finds from the renowned collection of artefacts excavated at the Roman town of Calleva Atrebatum, Silchester.
The Roman town lay largely undisturbed for over 1,000 years until large-scale excavations began in the 1860s. The finds included jewellery, fine glass and pottery, sculpture, mosaics, iron tools and coins. Fabulous objects of all kinds from the site are on display in the gallery.
Visiting the gallery will reveal the home-life of a wealthy citizen, the political and legal life of the Forum and Basilica, the social scene at the baths, and the shops, inns and workshops of the town.
Gallery highlights
The famous Silchester eagle - immortalised by Rosemary Sutcliff in her children's books The Eagle of the Ninth and The Silver Branch.
Our Iron Age Silchester Horse
The damaged head of Seraphis, previously being used mistakenly as a cheese press!
Roman costume dressing up
A model of the Roman town
You can also see more pottery and mosaics in the Silchester Annexe and Atrium.
Tell us what you think
We are planning to refresh the Silchester Gallery to tell new stories based on the most recent archaeological research by the University of Reading and to enhance the visitor experience. You can share your views about our ideas in this short online survey.
Finds from the extraordinary Roman city of Silchester did not disappoint with fine specimens of pottery, glass, and a model of how the city once looked.

- Reading Museum visitor
The Silchester Eagle
The Silchester Eagle is a cast bronze figure of an eagle found by Rev J.G. Joyce in the Basilica on the 9 October 1866. Its wings, now missing, would originally have been outstretched. The curve of the feet suggests that it stood on a globe. It is not a military eagle but is probably part of a large figure of an emperor or a god.
The eagle was repaired during its lifetime when replacement wings and probably new feet were fitted. It was then damaged again when it lost its replacement wings and suffered damage to its replacement feet.
This figure inspired Rosemary Sutcliff's books The Eagle of the Ninth and The Silver Branch.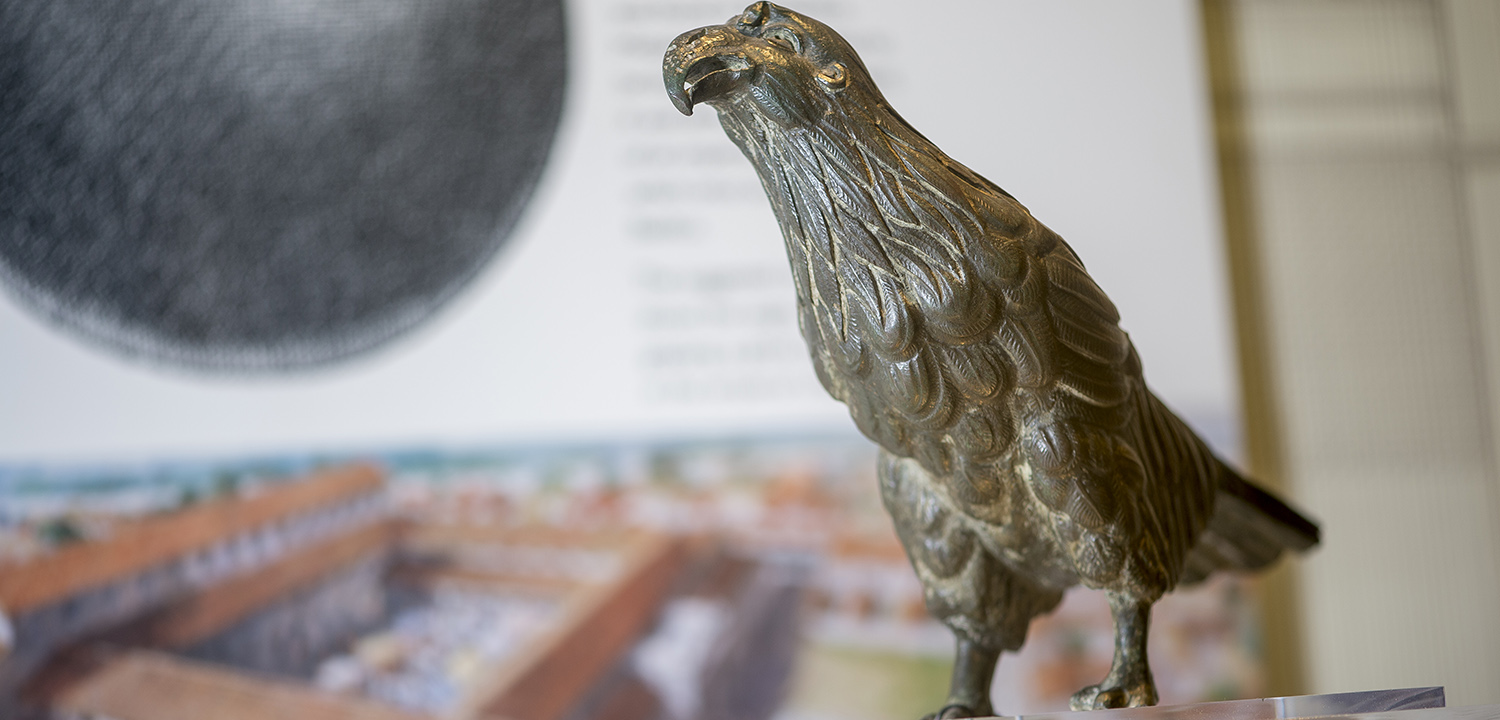 The famous Roman eagle in the Silchester Gallery.
Visit the Roman town
Today, the complete and well preserved town wall and amphitheatre, are the principal remains that you can visit and are looked after by English Heritage. Since the 1970s excavations led by the University of Reading have provided new insights into Calleva's Iron Age origins, the Roman town and later occupation.
National cycle route 23 from Reading to Basingstoke is known as the Calleva Way and connects the Museum to the archaeological site at Silchester.